Blue Blazes Trail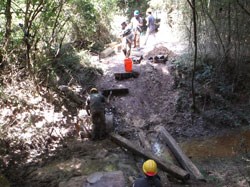 Located in Moccasin Bend National Archeological District, the Blue Blazes Trail is a two mile loop trail that goes through the forests and swamps near the southern end of Moccasin Bend in Chattanooga. When the interstate was constructed in the mid 20th Century, developers widened the Tennessee River by dredging off part of Moccasin Bend's shoreline. As the shoreline was dredged, it was pumped into the interior of the bend, creating a series of bogs and swampy areas contained by man-made dikes.
The Blue Blazes Trail follows these levies, taking visitors along ancient shorelines and through quiet forest. There is an abundance of wildlife, along with natural and cultural resources. Midway through the loop, the trail offers a nice overlook of the Tennessee River.
Directions
After exiting off Highway 27 onto Manufacturers Road, continue to Hamm Road and turn left. At the next intersection, turn left on Moccasin Bend Road and travel 0.9 miles. The trail head is on the right.
Last updated: November 17, 2015