Curricula
Oystering on the Chesapeake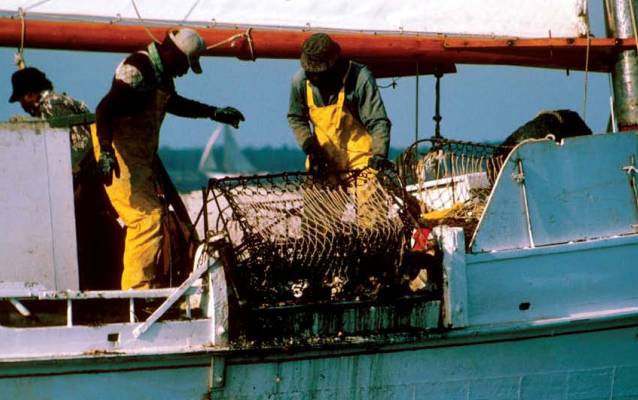 The Chesapeake Bay Maritime Museum has developed these Explorations in conjunction with a new permanent exhibition, Oystering on the Chesapeake. Both the exhibition and these activities explore the following themes:
• The Chesapeake Bay was once the greatest oyster factory on earth and oystering has shaped the lives of watermen, their families and communities, and the Bay as a whole.
• The onboard experience of the captains and crews of the Chesapeake's oyster harvesting boats
• The people and processes responsible for bringing the oysters from the Bay to the dinner table
• The story of the Chesapeake oyster fishery is one of great successes and fortunes but also is a story of conflict over resources and resource exploitation.
• The devastation of the oyster fishery is due to many interrelated factors and we are all
responsible.

These Explorations are designed to introduce students in grades 4,5, and 6 to the themes covered by the exhibition and can be used in preparation for a museum visit or as a stand-alone classroom resource. Ten separate Explorations examine different topics related to oystering. You may choose to complete the Explorations that best suit your students' needs and abilities. In addition, you can complete them in any order that works best for you.
Additional Resources
Paula J. Johnson, ed., Working the Water: The Commercial Fisheries of Maryland's Patuxent River (Charlottesville, VA: Calvert Marine Museum and University Press of Virginia, 1988)

Maryland with Pride website - Life in the Canneries
www.intandem.com/NewPrideSite/MD/MD_Home.html

The National Marine Fisheries Service tracks the economic value of oysters over time. This
information can be found on their website at www.nmfs.noaa.gov

Explore other Bay occupations at www.marylandwatermen.com


Details
Subject:

Career Studies, Commerce and Industry, Entrepreneurs, Maritime History, Social Studies

National/State Standards:

Maryland state standards

type:

Curricula