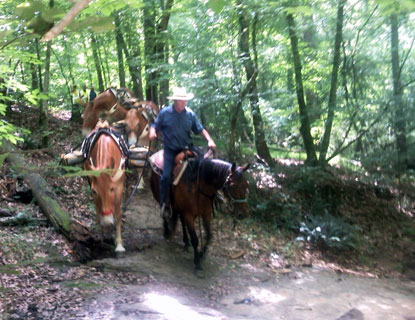 News Release Date:
June 23, 2011
Contact: Visitor Contact Station, 678-538-1200
Pack mules will be used to accomplish a bridge reconstruction project on backcountry trails at Chattahoochee River National Recreation Area. Hydra Engineering of Crawfordville, Florida is constructing several pre-engineered trail bridges as a part of a larger project being completed at the Atlanta metropolitan area park. Joe Hope of Hydra determined the most effective method for transporting bridge components to remote locations would be using pack mules. Some advantages of "mule power" include minimal impact to trails, limited use of gasoline or other non-renewable fuels and minimal disturbance of the natural quiet in these remote areas. In preparation for work at the park, the pack mules have been fed specialized feed to prevent introduction of exotic plants into the park environment. The prefabricated and pre-engineered bridges are made of extruded fiberglass and are delivered from the manufacturer palletized in component parts. The mules will pack the parts into various sites where the bridges will be assembled and installed using helical piers or conventional concrete foundations, depending on the site-specific requirements and logistical constraints.
Pack mule work will be conducted primarily at the Bowman's Island section of the park between June 20 and July 1, 2011.