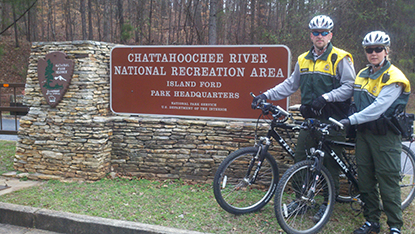 News Release Date:
March 29, 2013
Contact: Rudy Evenson, 678-538-1241
Help Celebrate the Completion of a Grant-Funded, Five-Year Trail Project!
Sandy Springs: The trails at Sope Creek are finally finished and it's time to ride! On Saturday, April 20, from 10 AM to noon, Chattahoochee River National Recreation Area (CRNRA) will be hosting a family trail ride at Sope Creek to celebrate the completion of an extensive trail improvement project. "With the new opening of more than six miles of trails for bicycling, this will be a great place for family rides," said CRNRA Superintendent Patty Wissinger. "We want to let our visitors know that these are beginner-level trails where people can enjoy a ride with their children, so we're welcoming folks out to join us at Sope Creek on April 20." Activities will include a ranger-led bicycle safety workshop for children, a youth bike ride, and an adult beginners' ride. All activities are free and open to the public on a first-come, first-served basis.
The Sope Creek trail improvement project began in 2008 with a grant funded by the Coca-Cola Company and administered by the National Park Foundation. Additional donors to the project include the family of Jack Sweitzer, a long-time park volunteer, as well as mountain biking group SORBA-Atlanta. Hundreds of volunteers have dedicated thousands of hours of work to the trail project over the last five years.
"Changing federal regulations to allow bikes on more of the trails was the last step in the process," Wissinger concluded. "That was a time-consuming legal process, but now that it's done, we welcome visitors to come out and take an enjoyable ride with us."
The legal status of the trails will change on April 5. Until then, bikes are still restricted to trails where they are currently allowed. For more information, please visit http://1.usa.gov/ZeOPSp