Date:
August 14, 2013
Contact:
Rudy Evenson
, 678-538-1241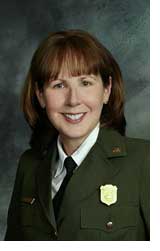 SANDY SPRINGS, Ga. - Patricia M. Wissinger, currently superintendent of Chattahoochee River National Recreation Area in Atlanta, has been selected as the new deputy superintendent at Great Smoky Mountains National Park. She is scheduled to report to her new assignment in mid-September.
"Patty brings a broad base of park operational knowledge and experience to the Smokies having served as a Superintendent, Deputy Superintendent, Division Chief, and in the Regional Office," said Great Smoky Mountains National Park Superintendent Dale Ditmanson. "Patty has been recognized for her leadership with partners as well as employees and I look forward to having her on our team."
Wissinger is a career National Park Service (NPS) employee who began her career in 1980 as a seasonal campground ranger on the Blue Ridge Parkway and moved up through the Park Service ranks. In addition to Chattahoochee River, she has served in management positions at the Blue Ridge Parkway, Shenandoah National Park, Cape Hatteras National Seashore, Wright Brothers National Memorial, and Fort Raleigh National Historic Site. She has served in extended acting assignments as Superintendent at Vicksburg National Military Park and Deputy Superintendent at Shenandoah National Park. She also served twice in the NPS Southeast Regional Office – once as the Region's Chief of Partnerships for over 63 parks and once as manager for the National Heritage Area Program, including twelve areas dispersed throughout the southeastern states and the Caribbean.
Wissinger has extensive experience in building partnerships, major museum design and construction, land acquisition planning, viewshed management, road and bridge construction projects, exhibit design, educational outreach, general management planning and managing large national park visitor services. She was recognized with numerous awards including Southeast Region Superintendent's Award for Science and Resource Management Excellence and, under her leadership, Chattahoochee River NRA was recognized for Excellence in Interpretation and Education.
"Words cannot express how excited I am to join the staff, partners, volunteers and the communities of the Great Smoky Mountains National Park, one of the crown jewels in our nation," Wissinger said. "At the same time, I will miss what makes Chattahoochee River so special to the people of this region. This national park, in the heart of the South's largest metropolitan area, lets everyone take time out of the rush of urban living to reconnect with nature on a quiet paddle or walk on a leafy trail. It is one of the busiest National Recreation Areas in our nation. I am proud to have served the mission of bringing the parks to all the people. To all the staff and volunteers at Chattahoochee River National Recreation Area, as well as our outfitters, partners, neighbors and especially our visitors, I am honored to have worked with you in protecting this precious resource."
---
EXPERIENCE YOUR AMERICA ™
The National Park Service cares for special places saved by the American people so that all may experience our heritage.