Park to Adopt "Pack-In, Pack-Out" Trash Policy to Save Money
Date:
March 18, 2013
Contact:
Rudy Evenson, 678-538-1241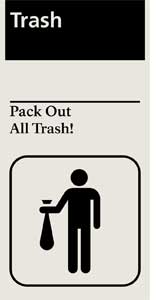 Sandy Springs: "Pack it in, pack it out" is a familiar slogan for hikers on the Appalachian Trail and in many national parks. Starting next month, visitors to the boat ramps, picnic areas, and trails ofthe Chattahoochee River National Recreation Area (CRNRA) will need to start getting used to carrying their own trash out of the park, too.
"Other national parks educate their visitors about leaving no trace, and we believe our visitors are conscientious enough, with a little advance notice, to plan ahead, bring their own trash bags, and pack out their trash," said CRNRA Superintendent Patty Wissinger. "We have hundreds of trash cans scattered throughout our 48 miles of river, and emptying them all is a big part of our maintenance costs. This is a cost savings measure that gets us part of the way toward meeting our budget cut under sequestration."
Beginning in April, CRNRA maintenance staff will begin installing signs asking visitors to "Pack Out All Trash." At the same time, they will also be removing trash cans from most park locations.
For more information about Leave No Trace, please visit http://lnt.org/learn/7-principles.
---
EXPERIENCE YOUR AMERICA ™
The National Park Service cares for special places saved by the American people so that all may experience our heritage.
Last updated: September 22, 2017