Date:
February 9, 2011
Contact:
Visitor Contact Station, 678-538-1200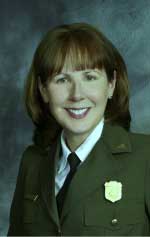 Patricia M. Wissinger has been named the new superintendent of Chattahoochee River National Recreation Area. Wissinger assumed her new duties on November 22, 2010.
"Patty is a tremendous addition to our great team of Southeast Region superintendents," said Regional Director David Vela. "She brings a wealth of knowledge and experience to Chattahoochee. Over 25 years in the National Park Service, including several positions here in the Southeast, have allowed her to experience a multitude of park programs and operations. As a seasoned park manager, she understands the importance of reaching out to local communities to foster cooperation and mutual understanding."
Wissinger was raised in Charlotte, NC where most of her family still resides. She is a 26-year NPS veteran who has served as Acting Superintendent at Chattahoochee since July. She was previously named Deputy Superintendent at Chattahoochee in February, 2010.
Wissinger has a wealth of experience managing National Park operations including assignments at the Blue Ridge Parkway, Shenandoah National Park, Cape Hatteras National Seashore, Wright Brothers National Memorial, Ft. Raleigh National Historic Site, Vicksburg National Military Park, and the NPS Southeast Regional Office in Atlanta.
Quote: "The Chattahoochee River is a tremendous national resource that provides beauty, recreation, natural and cultural resources and, of course, water to one of the largest metropolitan areas in the world. I look forward to working with the great staff and numerous partners whom work tirelessly to protect this scenic river corridor. My goal is to connect people - especially youth - to the park through healthy recreation and through the preservation of the resources in this special place. Together, I look forward to establishing a strong National Park identity, defining the landscape, and protecting the water quality with the residents and visitors to the Atlanta metro-region."
Chattahoochee River National Recreation Area is one of the busiest National Recreation Areas in the United States, visited by over 3 million people each year. Its purpose is to lead the preservation, protection and interpretation of the 48 mile, approximately 10,000 acre Chattahoochee River corridor, and its associated natural and cultural resources for the benefit and enjoyment of the people. In addition, the park preserves the water supply for the region and encourages healthful outdoor recreation for 7 million people in the Atlanta-metro area. It serves as a benefit to the regional economy, while preserving the free-flowing condition of the river and its tributaries and ecological buffers.