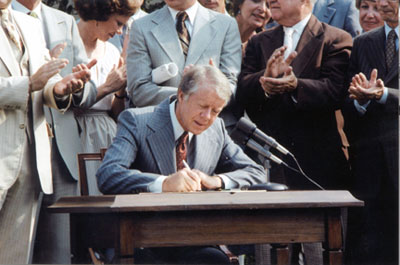 News Release Date:
February 14, 2014
Contact: Rudy Evenson, Park Information Officer, 678-538-1241
Sandy Springs: On Saturday, Sunday, and Monday, February 15, 16, and 17, 2014, Chattahoochee River National Recreation Area (CRNRA) will join the other 401 units of the National Park Service in waiving entry fees as part of the National Park Service's celebration of Presidents' Day weekend. The usual $3 fee will not be collected at boat ramps, picnic areas, and parking lots in the CRNRA.
"Every U.S. president has visited, resided in, or been honored in a national park," said National Park Service Director Jonathan B. Jarvis. "Sites such as George Washington's birthplace, Ulysses Grant's battlefields and Jimmy Carter's farm provide insight into the character of the men who have governed our country. Visit a national park and walk in their footsteps. See where they lived and learned, relaxed and recharged, experienced triumphs and tribulations."
"Not only did President Carter sign the law that created Chattahoochee River," added CRNRA Acting Superintendent Scott Pfeninger, "but we also have another Presidential history connection at Bullock Hall in Roswell, where President Theodore Roosevelt's parents were married."
The National Park Service will also waive admission fees during the first weekend of National Park Week (April 19 and 20), the National Park Service's 98th birthday (August 25), National Public Lands Day (September 27) and Veterans Day (November 11.) For members of the general public planning additional trips to Chattahoochee River National Recreation Area, annual passes are available for $25. For trips that include multiple national parks, there is an $80 annual pass that provides entrance to all national parks, national wildlife refuges, national forests, and many other Federal lands – more than 2,000 in all. National park passes that provide free or discounted admission year round are available for active duty military members and their dependents, senior citizens, and people with permanent disabilities.
---
EXPERIENCE YOUR AMERICA ™
The National Park Service cares for special places saved by the American people so that all may experience our heritage.