Date:
April 29, 2013
Contact:
Rudy Evenson, 678-538-1241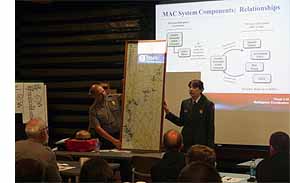 Sandy Springs: When tragedies such as the Boston Marathon bombing happen, public safety officials from many agencies must cooperate to respond effectively. To prepare for emergencies before they happen, federal and state agencies met in Sandy Springs last week to conduct joint training in the Incident Command System (ICS.) Personnel from Chattahoochee River National Recreation Area, the Chattahoochee-Oconee National Forest, the U.S. Forest Service Southeast Regional Office, and the Sandy Springs Police, Fire, and Public Works Departments met to take courses in organizing interagency responses to large incidents.
"With summer coming up, we're preparing our staff to assist visitors in every way we can," said Chattahoochee River National Recreation Area Superintendent Patty Wissinger. "Training with our federal and local partners helps us in two ways. First, it helps responders establish relationships now, without the pressure of an incident. Second, with the current budget situation, it's more efficient to combine our training with Sandy Springs and the U.S. Forest Service."
Sandy Springs Police Chief Ken DeSimone added, "For any emergency situation, we want our public safety personnel to have the tools and training needed to produce a positive outcome. Training cooperatively with the Park Service and U.S. Forest Service enhances the training process enabling our men and women to work together and establish that relationship prior to the added stress of an emergency situation."
---
EXPERIENCE YOUR AMERICA ™
The National Park Service cares for special places saved by the American people so that all may experience our heritage.