Date:
September 26, 2013
Contact:
Rudy Evenson, Park Information Officer, 678-538-1241
Notice of Public Comment Period from October 1 to October 31
Comment Period now ends on November 19, 2013
During the recent federal government shutdown, public documents related to the following project were temporarily inaccessible. Please note that if you have already submitted a comment via postal mail or electronic mail during the original comment period, these comments will be considered.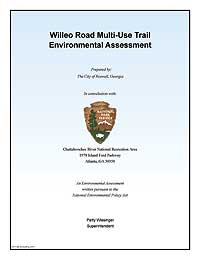 Sandy Springs, Ga. - Members of the public and interested parties are invited to comment on the Environmental Assessment (EA) entitled City of Roswell Willeo Road Multi-Use Trail. (GA DOT: CSTEE-0009-00[057], Fulton County, P.I. Number 0009057). The City of Roswell, in cooperation with NPS, has prepared an Environmental Assessment to evaluate several alternatives for improving trail connectivity and expanding recreational opportunities within the Chattahoochee River corridor along Willeo Road in Roswell, Georgia. The EA describes the purpose of and need for the project, alternatives that were considered, existing conditions at the site, and the effects of the alternatives on natural and cultural resources.
PEPC web site at https://parkplanning.nps.gov/WilleoRoadea
CRNRA Headquarters – 1978 Island Ford Parkway, Sandy Springs, GA 30350
Roswell Parks and Recreation Office, Roswell City Hall – 38 Hill Street, Suite 100, Roswell, GA 30075
You may submit comments on the document by mail (Superintendent, CRNRA, 1978 Island Ford Parkway, Sandy Springs, GA 30350), electronic mail (e-mail us), or through the PEPC web site (preferred). Please be aware that your entire comment, including your personal identifying information, may be made publicly available. While you can ask to have your identity withheld, we cannot guarantee that we will be able to do so. We will always make submissions from organizations or businesses, and from individuals identifying themselves as representatives of organizations or businesses, available for public inspection. The public comment period is open from October 1, 2013 through October 31, 2013.
---
EXPERIENCE YOUR AMERICA ™
The National Park Service cares for special places saved by the American people so that all may experience our heritage.