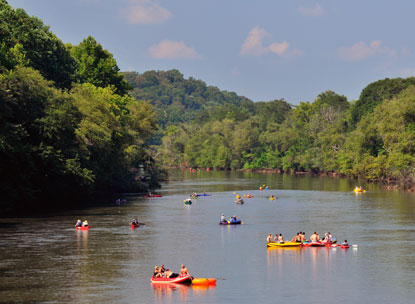 News Release Date:
July 22, 2011
Contact: Visitor Contact Station, 678-538-1200
On July 30, 2011, the Chattahoochee River National Recreation Area is hosting the Fourth Annual Chattahoochee River Summer Splash, a 6-mile float down the river from Morgan Falls Dam to Powers Island. This event is hosted in partnership with Sandy Springs Hospitality and Tourism. The Summer Splash is designed to bring families and persons of all ages back to the Chattahoochee River to discover how much fun it is to float along surrounded by beautiful scenery. Participants might see an Osprey circle overhead or watch a Great Blue Heron wade in the shallows. The river banks offer bright summer wildflowers with visiting butterflies and at river's edge tracks of muskrat, beaver, and otter often decorate the soft earth.
The park will provide a FREE shuttle bus from the MEAG Power parking lot, 1470 Riveredge Parkway, to Morgan Falls Dam from 8:30 a.m. to noon. All participants are to park their vehicle at this location and board the free shuttle bus to Morgan Falls Dam. From 12:30 p.m. to 4 p.m. a shuttle bus will take participants from the festival at Powers Island to their vehicle at the MEAG Power parking lot. The festival at Powers Island will include live music, interesting exhibits about the river and nature, wildlife programs, a bubble creation station, face painting, and food vendors.
This event is free to the public, but registration is required by calling the park at 678-538-1200. Participants are welcome to bring their own raft, canoe, or kayak or to rent from any of the park's authorized outfitters. Participants using their own boat must drop off their boat and equipment at Morgan Falls Dam in the morning, along with members of their party, prior to parking their vehicles at the MEAG Power parking lot. National Park Service volunteers will also be available to help safeguard boats and equipment.