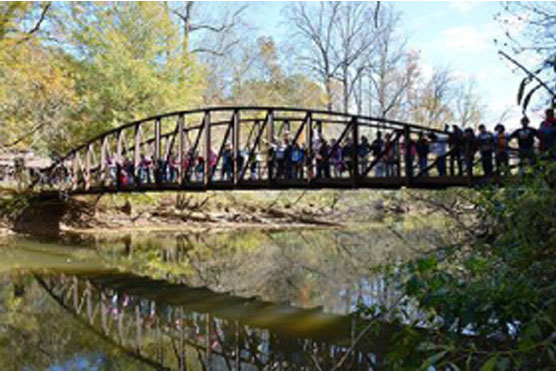 News Release Date:
March 31, 2014
Contact: Rudy Evenson, 678-538-1241
Rock Eagle: On Friday, March 28, 2014, park rangers Dave Thomas and Marjorie Thomas accepted the Georgia Environmental Association's Award for Outstanding Service to Environmental Education on behalf of Chattahoochee River National Recreation Area (CRNRA). The Georgia Environmental Education Association (GEEA) is an affiliate of the North American Association for Environmental Education, a professional association for educators working at nature centers, parks, and other institutions.
"This award reflects the hard work of the park's educational staff and our volunteers, as well as the park's commitment to inspiring stewardship in the next generation," said CRNRA Superintendent Bill Cox.
The park was nominated for the award by Sharon Smith of the Fulton County Water Department, one of the park's regular cooperators in presenting educational programs such as the Ticket to Ride field trips. Funded by a grant from the National Park Foundation, Ticket to Ride funded field trips for over 1,600 students in 2012 and 2013. The field trips involved activities presented by both county water education staff and park rangers and volunteers form CRNRA.
This is the first time CRNRA has received this award since GEEA was created in 1992.