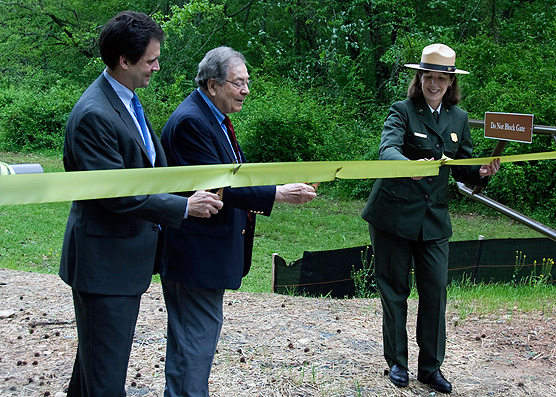 News Release Date:
May 6, 2011
Contact: Nancy Walther, 678-538-1200
Park visitors, volunteers, and staff gathered at the Chattahoochee River National Recreation Area (CRNRA) for a ribbon cutting ceremony to celebrate Earth Day Friday, April 22, 2011. During the ceremony former congressman Elliott Levitas was recognized for his vital role in the legislation that designated 48 miles of Chattahoochee River as a National Park. Levitas and veteran park ranger Jerry Hightower each spoke about the making of the park through both legislative and grassroots movements. An interpretive exhibit dedicated to Levitas' accomplishments, entitled Champion of the Chattahoochee, was revealed at the ceremony. The exhibit, located at the Island Ford Unit of the park complements three park projects funded by the American Recovery and Reinvestment Act (ARRA) of 2009.
CRNRA's new Hewlett Field access road, boat ramp, and paved trail are among the 800 National Park Service projects totaling $750 million that have been completed across the country with funding from ARRA. "These projects are an investment in America's future that will create jobs, stimulate the economies of local communities, and get our country moving again," Secretary of the Interior Ken Salazar said. "They are also an investment in telling the story of America to future generations through our national parks by conserving our awe-inspiring landscapes, our rich culture, and our great heritage."
The ARRA-funded projects at CRNRA serve to fulfill Secretary Salazar's mission. In addition, the projects increase visitor enjoyment and safety on a daily basis. The Hewlett Field access road, sustainably-built and maintained, provides park visitors and concessionaires with public vehicle access to Hewlett Field and the newly repaired boat ramp. The paved walking trail located near the Visitor Contact Station provides improved wheelchair access to these areas. The park proudly displayed its progress and honored its history at Friday's dedication ceremony.