Director of National Park Service Celebrates National Park Week at Chattahoochee River NRA
Date:
April 17, 2010
Contact:
Visitor Contact Station, 678-538-1200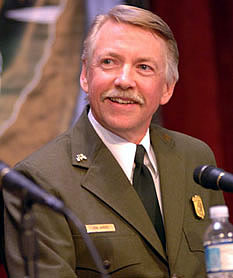 The Chattahoochee River National Recreation Area is proud to announce the visit of National Park Service Director Jon Jarvis. Director Jarvis will visit the park headquarters in Sandy Springs on April 20 in celebration of National Park Week.
In accordance with First Lady Michelle Obama's campaign "Healthy Kids, Healthy Living," Director Jarvis will engage with students through environmental education programs. These programs will feature a water quality study and relay race to promote physical activity, along with fostering stewardship for protected and preserved lands.
Following the education program, a reception with light refreshments will be held in honor of National Park Week and Earth Day at 2:00 p.m. at the Island Ford unit of the park.
Last updated: April 14, 2015