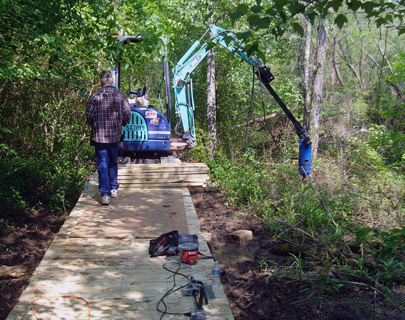 News Release Date:
May 18, 2011
Contact: Charlie Jackson, 678-538-1204
"Build as you go" is the theme resonating through the wetlands at Cochran Shoals as a replacement interpretive boardwalk winds its way through the swamp adjacent to the Chattahoochee River. Hydra Engineering of Crawfordville, Florida is constructing a new 800-foot walkway as a part of a larger project recently awarded at Chattahoochee River National Recreation Area in the Atlanta metropolitan area.
The popular walkway, which has been enjoyed by park visitors for more than 20 years, was closed recently due to failure of critical structural elements. Using design/build concepts, park officials consulted with the contractor and other construction experts to consider sustainable alternatives for reconstructing the facility. The team determined that helical piers, as compared to traditional construction, provide a more cost effective approach while minimizing environmental impacts.
The helical piers are placed at typical intervals, using an augur powered by a hydraulic attachment on a track-hoe. To ensure each pier achieves a firm "set" meeting the manufacturer's recommendations, hydraulic pressures are monitored during installation to insure a 500-pound force is obtained. Once set, each pier is capped with a bolted on structural bracket, and double treated wooden members are installed using customary deck-building carpentry practices.
Of special note, building is an ongoing activity at Cochran Shoals. The resident engineer, best known for dam-building propensity, indicated the construction is only slightly distracting and does not significantly impact his routine, primarily because his two-legged counterparts work only during daylight hours. An unusual approach to engineering, he surmised, but quite compatible with his nocturnal habits!