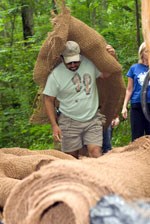 When you support the park as a VIP you have the opportunity to learn about the parks resources, meet other people, and become a steward of the park. There are as many ways to volunteer in the park as there are volunteers. If all you can spare is a couple hours then join the staff at a special event or work day. If, on the other hand, you have more time to give on a regular basis, then become a Trail Blazer or become involved with long term projects. When you become a VIP you can truly say that the Chattahoochee River National Recreation Area is my park!
Below are descriptions of volunteer opportunities at Chattahoochee River National Recreation Area. Please take a moment to see where you might fit in then give Dave Thomas, Volunteer Coordinator, a call at 678-538-1244 or send an e-mail, and get signed up.
Do you enjoy hiking along the trails at the Chattahoochee River National Recreation Area? Are you a frequent walker at one of our 15 units? Cochran Shoals, Island Ford, Vickery Creek, or any of the other 12 land units along the river? Join the volunteer hiking patrol for the Chattahoochee River National Recreation Area. The goal of this program is to provide an additional set of eyes and ears for park staff along the 48- mile stretch of the Chattahoochee River. The volunteers will receive 12 hours of training, including CPR & First Aide certification, to assist park visitors with safety, first aide when necessary, and information and resource protection reminders. Each member of the hiking patrol team will also, receive training on minor trail maintenance. This program will help create a safer and more enjoyable experience for the more than 3 million park visitors at the Chattahoochee River National Recreation Area.
Many plant species from around the world have been introduced to the Southeastern United States for agricultural purposes, erosion control, and landscaping. While some of these non-native species struggle to survive in their new home, others find Georgia provides an ideal habitat. Those species that thrive become invasive, crowding out the native plants. Anyone who has lived in the Atlanta area for any amount of time knows how Kudzu can become a real pest.
Join other individuals, groups, and organizations to work in teams making a noticeable difference in the parks environment. Learn how to identify some of the more common non-native plants and why they are so successful in their new home. Then it's time to put on some gloves and begin pulling, cutting, and spraying your way to a more natural looking park lands. The non-native, invasive plants identified in the park include, Chinese Privet, Japanese Honeysuckle, and Elaeagnus.
Long pants and close-toed shoes are a must. Bring your own insect repellent and sunscreen and allergy supplies if you have any allergies. The park will supply drinking water, gloves, large loppers, herbicide, handsaws and any other equipment that may be required.
This activity can accommodate a wide range of ages. Volunteers between the ages of 12 and 17 must have adult supervision at all times. Anyone under 12 must be personally supervised by a parent or guardian.
Give back to the Chattahoochee River as you clear out truckloads of trash including but not limited to balls, cans, bottles, styrofoam, chairs, ice chest, and porta-a-potty doors! As you paddle along the river, you'll also enjoy the many sights and sounds. The native flora and fauna is sure to inspire you and make you wonder why there is so much trash.
The park can provide canoes, Personal Flotation Devices (PFD), and paddles. Volunteers with appropriate watercraft are welcome to bring it for the clean-up. Safety Note: Due to the nature of these clean-ups, a PFD must be worn at all times while on the water. When applicable, volunteers must adhere to any additional guidelines as specified by the park or their organization.
With 15 land units (6400 acres), along 48 miles of river, trash builds up in seemingly unlikely places. orporate-based groups and concerned individuals can contact the park and set-up a work day for 2-6 hours. The park will supply direction, as well as necessary tools - gloves, trash pickers, and garbage bags. This is a nice way to enjoy your National Recreation Area, as well as contribute to the community.
Trail Building and Maintenance
With over 50 miles of trails in 15 separate park units, there is no end to trail maintenance. There is ample opportunity to improve the sustainability of pre-existing trails. The park has trained trail crew leaders that have the knowledge to appropriately build and maintain trails. No experience needed. Join us for a chance to get hands-on experience with trail work - such as building new trail and realigning old trails. The park will provide all necessary tools.