Driving Directions to Park Units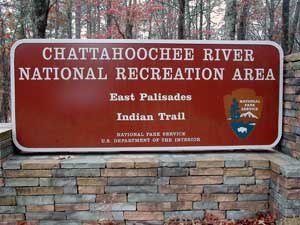 The park is spread over a 48 mile section of the Chattahoochee River and consists of the river and 15 land units beginning downstream from Buford Dam at Lake Lanier and ending at Peachtree Creek in metro Atlanta.
Below is a list of the land units starting at the Bowmans Island unit and working downstream to the Palisades unit. Below each unit's name is a list of entrances for that unit. Next to the entrance name is a map link and GPS coordinates for that location. Click on the link and enter your current location to obtain driving directions to the entrance. If you have GPS unit in your vehicle enter the GPS coordinates for driving directions to the entrance.
Note: Units closer to Atlanta tend to have more entrances, make sure you have the right entrance. The driving directions will take you to the park boundary; you may have to drive as much as a mile to arrive at a parking lot, trail head, boat launch, etc.
Bowmans Island unit
Upper Pool entrance/US Army Corps of Engineers

MAP | 34° 9' 19.44" N, 84° 4' 15.20" W

Lower Pool entrance/US Army Corps of Engineers

MAP | 34° 9' 46.27" N, 84° 4' 37.20" W

Island Ford Road entrance
NOTE: See Island Ford unit below for directions to the Park Headquarters and Island Ford Visitor Center.

MAP | 34° 8' 34.80" N, 84° 4' 31.57" W
Settles Bridge unit
Settles Bridge entrance

MAP | 34° 5' 31.50" N, 84° 5' 53.77" W
McGinnis Ferry unit
McGinnis Ferry entrance

MAP | 34° 3' 3.23" N, 84° 5' 56.54" W
Suwanee Creek unit
Chattahoochee Drive trailhead

MAP | 34° 1' 33.73" N, 84° 7' 31.27" W
Abbotts Bridge unit
Abbotts Bridge entrance

MAP | 34° 1' 35.26" N, 84° 10' 1.45" W
Medlock Bridge unit
Medlock Bridge entrance

MAP | 33° 59' 42.96" N, 84° 12' 17.36" W
Jones Bridge unit
Main entrance

MAP | 34° 0' 9.74" N, 84°15' 19.75" W

Chattahoochee River Environmental Education Center
(CREEC) entrance

MAP | 33° 59' 27.51" N, 84° 15' 32.72" W
Island Ford unit
Island Ford entrance
Park Headquarters and Island Ford Visitor Center.

MAP | 33° 59' 40.64" N 84° 20' 2.16" W
Vickery Creek unit
Grimes Bridge Road trailhead

Oxbo Road entrance

Covered Bridge entrance

Allenbrook entrance

Riverside Road entrance
Gold Branch unit
Lower Roswell Road entrance

MAP | 33° 59' 6.14" N, 84° 23' 13.22" W
Johnson Ferry unit
Hyde Farm entrance

MAP | 33° 58' 0.95" N, 84° 23' 29.25" W

Johnson Ferry Road entrance

MAP | 33° 56' 42.34" N, 84° 24' 22.18" W

Columns Drive entrance

MAP | 33° 56' 16.97" N, 84° 24' 53.25" W
Cochran Shoals unit
Sope Creek entrance

Columns Drive entrance

Interstate North entrance

Powers Island entrance
Palisades unit


Last updated: December 19, 2017