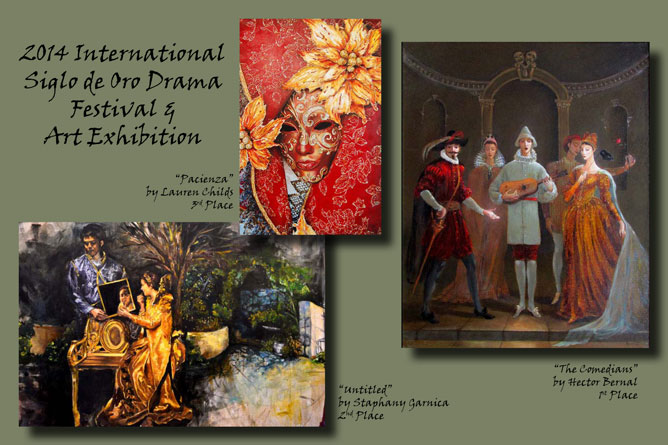 News Release Date:
February 12, 2014
Contact: Anne Doherty-Stephan, 915-532-7273 x124
Superintendent F. Gus Sanchez cordially invites the public to a reception on Tuesday, February 25th, from 4-6 p.m. at Chamizal National Memorial's Cultural Complex, which includes the Visitor Center, Theater, and galleries.
"This is an opportunity for us to honor this year's Festival visual and performing artists as well as seven other local artists currently on exhibit in the Memorial's galleries. It also provides our community members the opportunity to meet and interact with these talented artists and performers in a more relaxed atmosphere than immediately before or after a stage performance," says Superintendent Sanchez. A recognition ceremony will begin at 4:30 p.m. in the Memorial's Theater.
The Main Stage portion of the Festival officially begins on Wednesday, February 26th and runs through Sunday, March 2nd.  On Wednesday, Morfeo Teatro from Spain will perform La escuela de los vicos by Francisco de Quevedo at 7 p.m. On Thursday, February, 27th at 7 p.m. Morfeo Teatro will perform La lozana andaluza by Francisco Delicado. On Friday, February 28th at 7 p.m., Cambalache Teatro and Escuela Superior de Arte Dramatico (ESAD) de Murcia from Spain will collaborate to perform De fuera vendra…quien de casa nos echara by Agustin Moreto. On Saturday, March 1st at 7 p.m., Cambalache Teatro and ESAD de Murcia will perform El secreto a voces by Pedro Calderon de la Barca. On Sunday, March 2nd at 5 p.m., Cambalache Teatro and ESAD de Murcia will close the 2014 International Siglo de Oro Drama Festival with a performance of Puro Lope, which features a compilation of some of Lope de Vega's most well-known scenes from a number of his many plays.
Festival Ticket Information: Tickets will be FREE this year and available on a first come, first served basis. They will be available beginning 90 minutes prior to curtain each day for that night's performance only; starting at 5:30 p.m. Wednesday – Saturday evenings for 7 p.m. curtain time, and 3:30 p.m. on Sunday for 5 p.m. curtain time. People must be present to receive tickets for that night's performance.
The River People exhibit is open in the Memorial's Los Paisanos Gallery through March 8th, Mondays-Fridays 9 a.m. until 4:30 p.m. and weekends by request, 10 a.m. – 5 p.m. The Siglo de Oro Annual Art Exhibition will be open mid-February through March 30th in the Abrazos Gallery in the Visitor Center, open daily from 10 a.m. until 5 p.m. The restoration of the Nuestra Herencia mural is ongoing through its anticipated completion next year.
We are looking forward to this year's Siglo de Oro Festival and hope you'll join us for the public reception on Tuesday, February 25th then for the Festival itself on February 26-March 2!