"River People" Exhibit Showing in Los Paisanos Gallery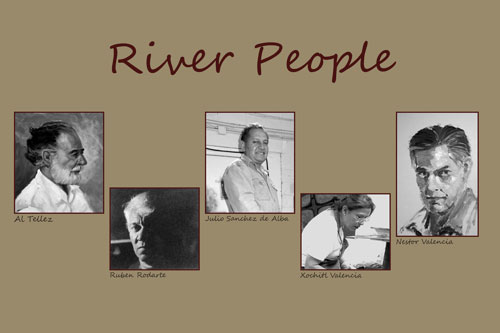 News Release Date:
February 12, 2014
Contact: Anne Doherty-Stephan, 915-532-7273 x124
Contact: Jerry Flood, 915-532-7273 x105
Chamizal National Memorial Superintendent F. Gus Sanchez is pleased to announce the River People exhibit showing in the Memorial's Los Paisanos Gallery through March 8th.
"This exhibit, along with the artists, are representative of the cultures here on the U.S.-Mexican border. Chamizal National Memorial is proud to celebrate the treaty of Chamizal by showcasing the creativity and cultures of the people of the borderlands," Superintendent Sanchez remarked.
The exhibit features five local artists including Nestor and Xochitl Valencia, Alfonso Tellez, Ruben Rodarte, and Julio Sanchez de Alba. Their artwork highlights people, cultures, architecture, wildlife, natural scenes, and more through a mix of realistic and more abstract pieces using a variety of mediums including oils and acrylics, wood, wax, metals, glass, fabrics, and pen and ink.
Sculptor Julio Sanchez de Alba finds his inspiration in wildlife and other living things, saying that "My fascination with motion is expressed through my art by capturing their dynamic lives in poses that come within my heart."
These artists, along with this year's Siglo de Oro Festival visual and performing artists, will all be honored in a public reception scheduled for Tuesday, February 25, 2014 from 4-6 p.m. at Chamizal National Memorial's Cultural Complex, which includes its galleries and theater.
Coming soon – details about this year's Festival lineup and annual art exhibit as well as Chamizal National Memorial's 50th Anniversary mural restoration and other Legacy projects.
Last updated: February 24, 2015