Poster for 36th Siglo de Oro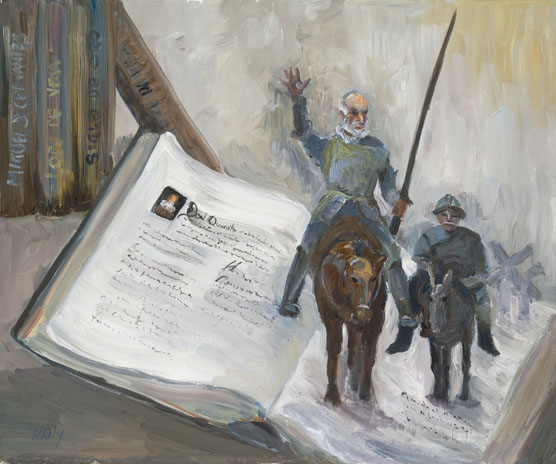 News Release Date:
January 18, 2011
Contact: Dora Martinez, 915-532-7273 x128
The National Park Service at Chamizal National Memorial, El Paso, Texas, has selected Don Quixote, an impressionist oil painting by the late Carmen, 'Kany,' Rodriguez as their poster-art contest winner for the 36th Annual Siglo de Oro Spanish Drama Festival.
The posters have been a collector's item for decades and are distributed to universities throughout the United States, as well as local public offices in the El Paso region. A selection of previous posters will be on sale during the drama festival in the visitor center.
A final exhibition, A Tribute to Carmen 'Kany' Rodriguez's Celebration of Life, will be presented in Los Paisano's Gallery at Chamizal National Memorial February 14 - April 15, 2011. The opening reception, open to the public, is Thursday, February 17 from 5:30-8:00 pm at 800 S. San Marcial.
Carmen's paintings received many awards in juried shows throughout El Paso and the south-west region. "The final exhibition highlights 46 impressionist oil paintings selected from hundreds of works in her portfolio, as well as her Don Quixote piece," says Lynne Welch, her dear friend and one of the organizers of the exhibition. "This will be an opportunity to experience Carmen's special bi-national interpretation and flair for the world around her. Her extensive international travels, love of people and places are both reflected in her paintings."
The exhibition is being presented in loving memory of the vivacious spirit and courageous journey that Carmen shared. A native of Chihuahua City, Mexico and citizen of the United States, Carmen lived in El Paso for many years until the time of her passing. She was a friend to the National Park Service and the staff at Chamizal National Memorial will miss her.
Last updated: February 24, 2015