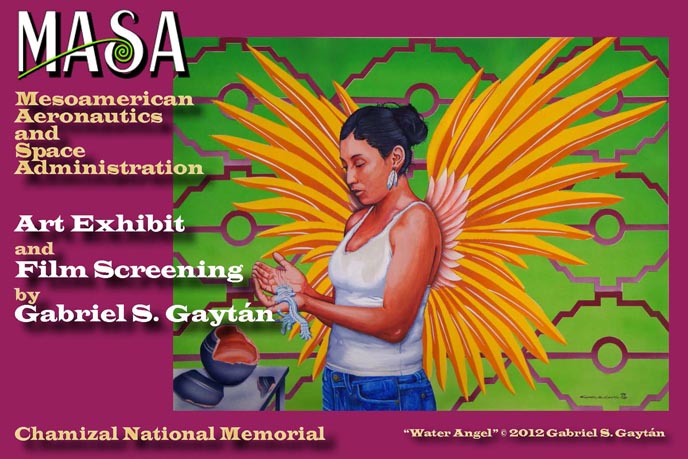 News Release Date:
December 13, 2012
Contact: Anne Doherty-Stephan, 915.532.7273 x124
The National Park Service at Chamizal National Memorial is pleased to announce a series of events in honor of the opening of a new art exhibit in its Los Paisanos Gallery. Local artist Gabriel S. Gaytan's "MASA: Mesoamerican Aeronautics and Space Administration" exhibit includes a vibrant and colorful collection of original paintings, light boxes, replica of an Aztec Codex Book, and film that all focus on Mesoamercian, Mayan, and Aztec cultural connections, past and present.
Opening events will be held on Sunday, December 16, 2012 from 4-7 p.m. The program will start with a performance by Danza Azteca Omecoatl in the Memorial's theater at 4 p.m., followed by a screening of the film "Tonal Achtli, Semilla del Sol, Seeds of the Sun" and a 2012 panel discussion with question and answer period. The activities will then move to the Los Paisanos Gallery at 5:30 p.m. for the official opening of the exhibit and a catered reception. We hope you will join us for this exciting series of events. Copies of the film, prints, and other exhibit-related items will be available for sale through Western National Parks Association in our Visitor Center bookstore.
The Los Paisanos Gallery is open Mondays-Fridays from 8:00 a.m. - 4:30 p.m. and weekends by request.