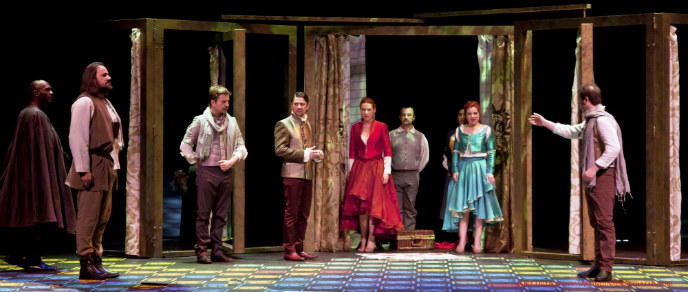 News Release Date:
March 2, 2016
Contact: Gina Hernández, 915-532-7273 x129
Chamizal National Memorial Superintendent F. Gus Sánchez is pleased to announce the lineup and other important information for this year's 41st Siglo de Oro Drama Festival. The Festival's main stage performances will take place at 7 p.m. each night from Wednesday, March 30th through Saturday, April 2nd, 2016 in the National Memorial's Theater and Cultural Complex. 
On Wednesday, March 30th at 7 p.m., Fundación Siglo de Oro from Madrid, Spain will open this year's Festival with their United States debut of
Mujeres y criados
, a Lope de Vega play which was considered lost to time. After the script's recent discovery, Fundación Siglo de Oro was selected to bring it to life for audiences for the first time in four hundred years. The theater company will also support their educational mission by providing a two-day workshop which is the culmination of a project aimed at producing translations of three Lope de Vega plays and encouraging their use in high quality English language performances in an effort to spread understanding and appreciation of Spain's Golden Age drama. The public is invited to
attend a rehearsal of these translations
in the Chamizal National Memorial Theater from 1-4 p.m. on Tuesday, March 29th. 
On Thursday, March 31st at 7 p.m., local theater company Eden Enterprises will perform three entremeses written by Miguel de Cervantes to mark the 400th anniversary of this most well-known Golden Age author. Three Entremeses Cervantinos includes El juez de los divorcios, The marvellous puppet show (El retablo de las maravillas), and La cueva de Salamanca. Eden Enterprises has also supported the Memorial's efforts in education by performing El juez de los divorcios for 24 area educators at the Siglo de Oro Festival Teacher Workshop as well as for 2,306 students during 10 performances in several El Paso area schools last month. 
On Friday, April 1st at 7 p.m., Telón de Arena from Ciudad Juárez, Mexico will perform La Celestina, also known as La tragicomedia de Calisto y Melibea by Fernando de Rojas. Their performances of the Guadalupe de la Mora adaptation of this piece have been well received around Mexico, and they are sure to enchant this El Paso audience. In addition to adding a great performance to the lineup, the participation of Juárez-based Telón de Arena in this year's Festival along with an El Paso company is significant to the mission of Chamizal National Memorial. As Superintendent Sánchez states, "The story that we memorialize is that of cooperation between these neighboring countries. They were successful because of their mutual respect, which is what we hope to promote through collaboration and the arts." 
EFE Tres Teatro from Mexico City, Mexico will close the Siglo de Oro Drama Festival with one of Lope de Vega's lesser-known plays, El Príncipe Ynocente. Their performance uses the ñaque style of theater in which two actors perform the parts of all characters in a play. With their minimalist set –a cell and a few items that would be available in a jail –these actors employ their skill and the power of language to draw the audience in to an uproarious telling of this story about Prince Alexandro and the Duke of Cleves. 
Tickets will be FREE and available on a first come, first served basis. They will be available beginning at 5:30 p.m. each evening for that night's performance only.All attendees must be present to receive tickets. Theater doors open for general seating at 6:30 p.m. For more information about ticketing, parking and performances, visit www.nps.gov/cham and click on the 2016 Siglo de Oro Drama Festival feature at the bottom of the home page. For questions, contact Gina Hernández at (915) 532-7273 x129 or Gina_Hernandez@nps.gov.