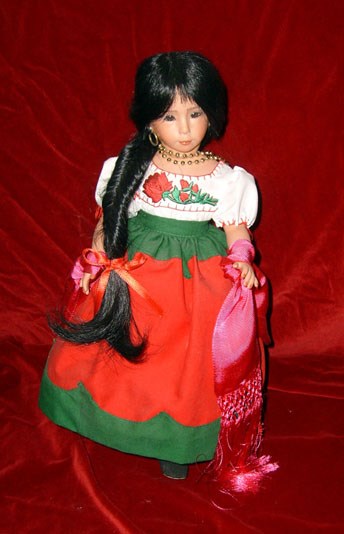 Capital: Guanajuato
A full white blouse, embroidered with bright flowers and butterflies, above a deep green belled skirt with a scalloped red overlay: this costume mirrors the clear primary colors of Guanajuato -- a centrally located state virtually bursting with its bounty of fruit and grain, flowers, and unique character.
Guanajuato is known as Mexico's granary, producing not only grains and vegetables, but also fruits -- virtually all of Mexico's strawberries are grown in Guanajuato and Michoacan -- and flowers, from roses to the brilliant cempasúchil flowers used to decorate altars for the Day of the Dead.
Other economic resources include gold and silver mines, livestock and tourism. Popular annual fairs -- including Expofresa (The Strawberry Expo) in Irapuato, and the Cajeta (goat's milk candy) Fair in Celaya -- bring people together to exhibit and sell regional products.
The capital is known for its 16th and 17th-century Spanish colonial architecture. A maze of underground freeways has helped keep the picturesque churches, monuments and plazas on the surface largely unspoiled.
The cobbled streets, designed to channel floodwaters, are so narrow a small car can barely navigate them, and the balconies of the old homes lining the roadways are so close, people can actually reach across and touch. Supposedly, one young couple was caught kissing from opposing balconies (a forbidden activity), and the young lady was sent to a convent.
Another unique attraction is an assortment of preserved human remains at El Museo de las Momias (the Mummy Museum). Constant temperature, low humidity, and unique soil conditions cause buried tissue to desiccate and mummify. Local lore has it that excavation for the subterranean freeways unearthed the remains from an old municipal cemetery. Others say the mummies were acquired between 1896 and 1958, when failure to pay a mandatory "grave tax" resulted in one's dearly beloved being disinterred and placed on display in the museum.
Did you know...?
The name Guanajuato is said to have originated with the Purépecha Indians who visited the canyon and found abundant ores and mineral for use in making jewelry. They first named the area Cuanaxhuato, which means "mountainous place of frogs." When the Spaniards arrived in search of gold and silver, they excavated great mines, eventually founding the Villa y Real de Minas de Santa Fe de Guanajuato in 1577.
Petra Rosales, Doll-maker: "Legend has it that during the War of Independence, a brave peasant named Juan Jose de Los Reyes Martinez (nicknamed "Pipila") created the first "bullet-proof vest". With a heavily armed Spanish garrison standing their ground in the Alhondiga de Granaditas -- a well-defended, almost impenetrable armory -- Pipila strapped a rock slab to his back to serve as armor against the Spaniard's artillery. With this improvised protective shield, he managed to reach the Spanish stronghold and set it on fire."