Guanajuato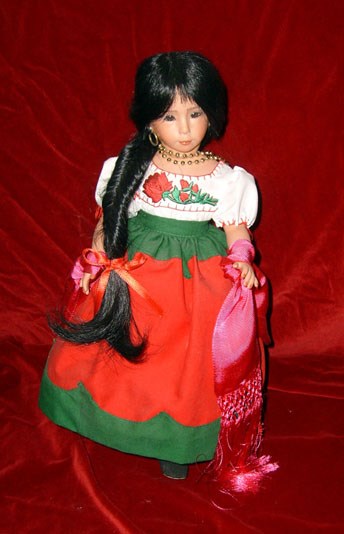 Capital: Guanajuato
A full white blouse, embroidered with bright flowers and butterflies, above a deep green belled skirt with a scalloped red overlay: this costume mirrors the clear primary colors of Guanajuato -- a centrally located state virtually bursting with its bounty of fruit and grain, flowers, and unique character.
Guanajuato is known as Mexico's granary, producing not only grains and vegetables, but also fruits -- virtually all of Mexico's strawberries are grown in Guanajuato and Michoacan -- and flowers, from roses to the brilliant cempasúchil flowers used to decorate altars for the Day of the Dead.
Other economic resources include gold and silver mines, livestock and tourism. Popular annual fairs -- including Expofresa (The Strawberry Expo) in Irapuato, and the Cajeta (goat's milk candy) Fair in Celaya -- bring people together to exhibit and sell regional products.
The capital is known for its 16th and 17th-century Spanish colonial architecture. A maze of underground freeways has helped keep the picturesque churches, monuments and plazas on the surface largely unspoiled.
The cobbled streets, designed to channel floodwaters, are so narrow a small car can barely navigate them, and the balconies of the old homes lining the roadways are so close, people can actually reach across and touch. Supposedly, one young couple was caught kissing from opposing balconies (a forbidden activity), and the young lady was sent to a convent.
Another unique attraction is an assortment of preserved human remains at El Museo de las Momias (the Mummy Museum). Constant temperature, low humidity, and unique soil conditions cause buried tissue to desiccate and mummify. Local lore has it that excavation for the subterranean freeways unearthed the remains from an old municipal cemetery. Others say the mummies were acquired between 1896 and 1958, when failure to pay a mandatory "grave tax" resulted in one's dearly beloved being disinterred and placed on display in the museum.
Did you know...?
The name Guanajuato is said to have originated with the Purépecha Indians who visited the canyon and found abundant ores and mineral for use in making jewelry. They first named the area Cuanaxhuato, which means "mountainous place of frogs." When the Spaniards arrived in search of gold and silver, they excavated great mines, eventually founding the Villa y Real de Minas de Santa Fe de Guanajuato in 1577.
Petra Rosales, Doll-maker: "Legend has it that during the War of Independence, a brave peasant named Juan Jose de Los Reyes Martinez (nicknamed "Pipila") created the first "bullet-proof vest". With a heavily armed Spanish garrison standing their ground in the Alhondiga de Granaditas -- a well-defended, almost impenetrable armory -- Pipila strapped a rock slab to his back to serve as armor against the Spaniard's artillery. With this improvised protective shield, he managed to reach the Spanish stronghold and set it on fire."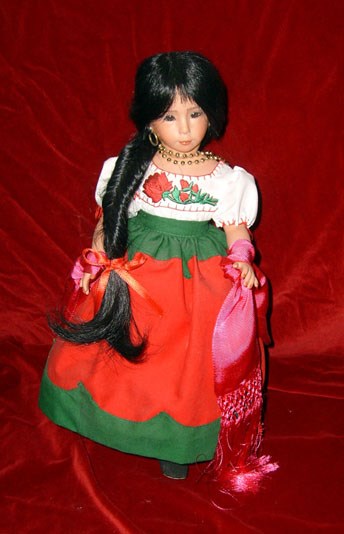 Capital: Guanajuato
Este traje con blusa blanca bordada con brillantes flores y mariposas, sobre una falda verde oscuro y rodeada por un velo representa los colores básicos de Guanajuato, estado localizado en el centro de México, que es un estado generoso en cosechas de fruta, cereales, flores y de carácter único.
Guanajuato es conocido como el granero de México, produciendo no sólo cereales y verduras, sino también fruta, prácticamente las fresas de todo México son cultivadas en Guanajuato y Michoacán; las flores, desde rosas hasta el brillante cempasúchil, que se utiliza para decorar altares para el Día de los Muertos.
Otros recursos económicos incluyen las minas de oro y plata, ganadería y turismo. Sus populares ferias anuales, incluyendo Expofresa (la Feria de la Fresa) en Irapuato y la Feria de Cajeta (dulce de leche de cabra) en Celaya, convocan a la gente a exponer y vender productos regionales.
La capital es famosa por la arquitectura colonial de los siglos 16 y 17. Un laberinto de avenidas subterráneas ha ayudado a mantener en buen estado las pintorescas iglesias, monumentos y plazas en la superficie.
Las estrechas calles diseñadas para canalizar corrientes de agua, son tan estrechas que un pequeño coche apenas puede pasar por ellas. Los balcones de la viejas casa están tan cercanos unos de otros, que la gente se puede alcanzar a tocar. Cuenta una leyenda, que una pareja joven fue sorprendida besándose de un balcón a otro, como era una actividad prohibida, la señorita fue enviada a un convento.
Otra atracción única es una diversidad de restos humanos conservados en el Museo de las Momias. La temperatura constante, la baja humedad y las condiciones únicas del suelo causan que el tejido enterrado se diseque y momifique. La creencia local explica que en una excavación para la construcción de las avenidas subterráneas se desenterraron los restos de un viejo cementerio municipal. Otros dicen que las momias fueron adquiridas entre 1896 y 1958, cuando el impuesto de la sepultura no se pagó por alguien que perdió el interés en sus seres queridos causando que el cuerpo fuera exhumado y expuesto en el museo.
Sabías que...?
Se dice que el nombre de Guanajuato, proviene de un vocablo de los indios Purépecha que visitaron el cañón y encontraron abundantes minerales para su uso en la fabricación de joyería. La llamaron Cuanaxhuato, que significa "lugar montañoso de ranas". Cuando los españoles llegaron en busca de oro y plata, excavaron grandes minas y posteriormente fundaron Real de Minas de Santa Fe de Guanajuato en 1577.
Petra Rosales, fabricante de muñecas: "Cuenta la leyenda que durante la guerra de Independencia, un campesino valiente llamado Juan José de Los Reyes Martínez (apodado "Pípila") creó el primer "chaleco antibalas". Con una guarnición fuertemente armada los españoles tomaron la Alhóndiga de Granaditas, un granero casi impenetrable, el Pípila ató con una correa una losa de roca a su espalda para que le sirviera como escudo protector contra la artillería de los españoles. Con ésto logró alcanzar la fortaleza española y prenderle fuego."
Last updated: February 24, 2015