Community Dedicates New Contact Station
Date:
May 14, 2013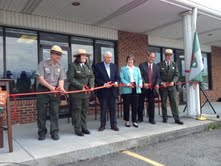 Community Dedicates New Visitor Contact Station
 The Shenandoah Valley came together on Friday, May 10, 2013 to dedicate the new Visitor Contact Station at Cedar Creek and Belle Grove National Historical Park.Congressman Frank Wolf joined National Park Service staff and park partners to officially open the facility.Park supporters came from the neighboring communities and as far as Washington, DC to celebrate the event.
Speakers representing the National Park Service, the park's Key Partners, and the Federal Advisory Commission shared their pride over this milestone for the park.Congressman Wolf, who sponsored the enabling legislation that created the park in 2002, provided a moving keynote address and emphasized the importance of preserving America's historic sites for future generations.The ceremony ended with a ribbon cutting by Congressman Wolf and all the event speakers.
Site Manager, Amy Bracewell, reflected on the importance of the community to this park.She noted, "It was a community effort to establish Cedar Creek and Belle Grove NHP and it is a celebration for the community to have a new orientation area to share the rich history of the Shenandoah Valley.This space provides us with great opportunities to reach out to visitors, neighbors, and new audiences who want to learn about the park."
The new Visitor Contact Station is the first public facility in the park that is operated by the National Park Service and is located at 7712 Main Street, Middletown.It is open daily, from 8:30 a.m. to 4:30 p.m., and is free of charge.The exhibits cover the broad spectrum of the Shenandoah Valley's history, from its geological formation, through early settlement to the Civil War and its impact.
National Park Service ranger conducted programs are also presented on a regular basis.A program schedule, along with other information on the park, partner sites and the Contact Station is available on the park website (www.nps.gov/cebe) or by calling the park: (540) 869-3051.
Last updated: February 26, 2015