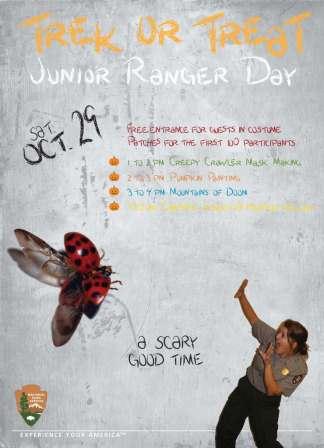 News Release Date:
October 11, 2011
Contact: Lynn Cartmell, 575-278-2201
Come celebrate Halloween early at Capulin Volcano National Monument's Trek or Treat Junior Ranger Day on October 29, 2011. The staff at Capulin Volcano will hold activities from 1:00 p.m. to 4:00 p.m. at the Capulin Volcano Visitor Center, as well as a campfire program starting at 7:30 p.m. in the Picnic Area.
The park will open at 8:00 a.m. with entrance fees being waived for visitors that arrive in costume. Trek or treating will take place all day with activities starting at 1:00 p.m. From 1:00 p.m. to 2:00 p.m., will be the Creepy Crawler activity, this will give kids the opportunity to make their own Halloween mask. Pumpkin Painting from 2:00 p.m. to 3:00 p.m., will allow the kids to decorate a pumpkin in whatever ghoulish fashion they see fit. The Mountain of Doom volcano presentation will take place from 3:00 p.m. to 4:00 p.m. The last activity will be Haunted Hollow Picnic Area from 7:30 p.m. to 8:30 p.m.; this campfire program is about the historical events that happened around Capulin and the ghosts that still linger.
The park staff asks that visitors dress appropriately for the weather. Children must be accompanied by at least one parent or guardian throughout the day. If you are planning to attend the campfire program, the park staff asks that you bring your own chairs. Patio heaters and plenty of marshmallows will be provided. The campfire program consists of ghost stories, therefore may not be appropriate for all ages.
Capulin Volcano National Monument, a unit of the National Park System, preserves "…a striking example of a recent extinct volcano." The park is located on Highway 325, 3 miles north of the town of Capulin, NM, 30 miles east of Raton, NM, and 56 miles west of Clayton, NM. For more about Capulin Volcano and the National Park Service, check out our website www.nps.gov/cavo or find us on Facebook.