Scenic Vistas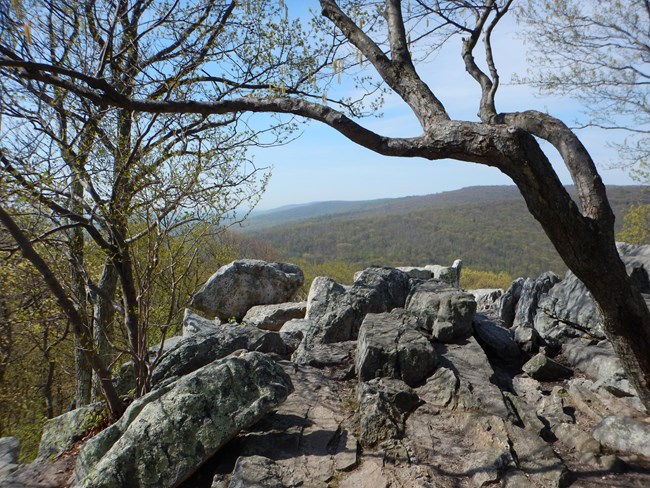 National Parks have long been known for their scenic vistas. Scenic vistas at Catoctin Mountain Park include: Chimney Rock, Hog Rock, Thurmont Vista, and the Blue Ridge Summit Overlook.
Catoctin Mountain Park is a fun and exciting place to explore and the splendid views from the overlook attract people from all over the world. However, please be advised that jumping across the rocks at these overlooks is extremely dangerous. People are seriously injured on a frequent basis. The size of the gaps between rocks is very deceptive, so please do not attempt to jump these hazard areas! Enjoy the view but please use caution at these areas.
Chimney Rock is at about 1,400 feet in elevation and looks out to the east over the piedmont region. Hog Rock is at 1600 feet and can be reached by parking at the Hog Rock Area parking lot.
Hog Rock affords a view to the east of the mountains of the Weverton Formation and of the gap through which Hunting Creek flows.
The Thurmont Vista, with an elevation of 1,502 feet, is a relatively short steep climb. The view here is to the east of the Frederick Valley and Thurmont.
The Blue Ridge Summit Overlook is the most accessible high vista point in the park The trail leaves from Hog Rock Parking Area and is a short, gradual climb to the vista. This vista offers a beautiful view to the north of the Harbaugh Valley and mountains of southern Pennsylvnia. The valleys and slopes seen to the north drain into Owens Creek.
Go the the
East Trails Hiking Page
to view and/or download hiking maps and guides to these spectacular overlooks.
In the eastern United States where relative humidity and pollution levels are high, deterioration of visibility is a serious threat. In 1986, a visibility study was conducted at Catoctin to establish baseline data on the average visible distances from three overlooks in the park. It was intended that these overlooks be monitored in future years to determine if haze and pollution are affecting the visibility. Further study is needed to determine how much visibility is being impaired.
Learn more about climate change impacts to Catoctin Mountain Park's resources.


Last updated: October 21, 2022