Date:
September 26, 2011
Contact:
Holly Rife, 301-663-9330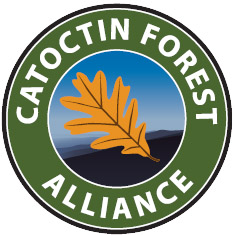 The Catoctin Forest Alliance (CFA) is sponsoring an extended exhibition of Artist in Residence works at the Delaplaine Visual Arts Education Center, at 40 South Carroll St., Frederick, Maryland from October 1 through November 20. Exhibits can be seen in the Gardiner Gallery which is open from 9:00 am to 5:00 pm, Monday through Saturday, and from 11:00 am until 5:00 pm on Sunday. The public is invited to learn about the Artist in Residence program and meet artists and CFA members at an Open House at the gallery as part of Frederick's First Saturday program from 3:00 pm until 5:00 p.m. on October 1. There is no charge for admission.
It could be logically argued that the National Park Service owes its existence to art. Paintings by Thomas Moran and other artists were pivotal in convincing Congress to preserve Yellowstone as the world's first national park. Today, the tradition of art is encouraged and honored through Artist in Residence programs in over 40 National Parks and in local and state venues across the country. These programs foster a unique connection between art, artists and the general public and aim to bring people to the parks to experience the creative, mental and physical benefits of being outdoors.
In 2009, the Catoctin Forest Alliance partnered with Catoctin Mountain Park and Cunningham Falls State Park to create an Artist in Residence (AIR) program in the Catoctin Mountains area. Carl Braun, an accomplished local oil painter was selected as the inaugural artist in April, 2010. His painting, "Catoctin Adventures" depicts visitors enjoying Catoctin Mountain Park throughout the four seasons. Since then, six additional artists have transformed inspirations from the natural setting into oil and acrylic paintings, prints, photographs and ceramics.
The Catoctin Artist in Residence program offers visual, literary, and performing artists an opportunity to work in a natural and historic setting to advance art, nature and history education, and appreciation. Selected artists spend 2 weeks drawing inspiration and creating a novel work for donation to the Catoctin Forest Alliance. Spring and fall residents stay in a log cabin built in the 1930's by the Works Progress Administration (WPA.) The summer resident has use of a campsite in Cunningham Falls State Park. Artists provide at least one public program during their time in the park.
The Artist in Residence Program also encourages youth to explore outdoor spaces and expand their creativity through art. This, and other youth related programs, tangibly achieves the Catoctin Forest Alliance goal of encouraging new audiences to experience the outdoors, and to engage youth in activities fostering a greater understanding of the natural environment. This year's exhibit will feature art created by young people from Washington, D.C.'s Latin American Youth Center, 2nd Nature Camp and from the Mother Seton School in Emmitsburg, Maryland.
Interested artists can learn more about the program and application process in the Catoctin area by visiting the Catoctin Mountain Park website at www.nps.gov/cato. Residencies are offered annually in May, August and October. Learn more about the Catoctin Forest Alliance and its mission to support the overall health of the Catoctin Forest by visiting the association's website at www.catoctinforall.org.