Date:
May 12, 2011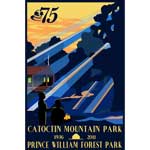 The Catoctin Forest Alliance will host Meeting on the Mountain III at Camp Greentop in Catoctin Mountain Park beginning at 8:30 a.m. on Friday, May 13. Camp Greentop is located at 15001 Park Central Road, Thurmont, Maryland.
Making Public/Private Partnerships Work is the theme of this year's gathering of environmentally conscious individuals and organizations supporting the overall health of the Catoctin Forest.
Former National Park Service Director and current Senior Advisor to the Secretary of Interior, Robert G. Stanton, will be the Keynote speaker. Afternoon sessions will include presentations and panel discussions focused on alliance building and current forest health issues.
Catoctin Mountain Park Superintendent, Mel Poole, will make a special announcement regarding the return of residential environmental education to Camp Greentop as part of his opening remarks.
Both Mr. Stanton and Mr. Poole will be available for media interviews beginning at noon.
Catoctin Mountain Park is one of 394 units administered by the National Park Service, U.S. Department of the Interior. The park Visitor Center, located on State Route 77 three miles west of Thurmont, Maryland, is open daily from 10:00 a.m. until 4:30 p.m., and from 8:30 a.m. until 5:00 p.m. on Saturdays and Sundays. Correspondence should be addressed to: Superintendent, Catoctin Mountain Park, 6602 Foxville Road, Thurmont, MD 21788. Our website address is www.nps.gov/cato. General information can be obtained by calling the Visitor Center at (301) 663-9388.