Date:
May 12, 2011
Contact:
Debra Mills
, 301-663-9388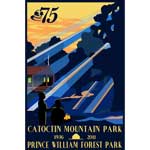 The National Park Foundation has awarded a Park Steward Grant to Catoctin Mountain Park for the 2011-2012 school year. Funded by the Bank of America, this program gives high school teachers and students the opportunity to explore the relevance of national parks and encourages them to become civically engaged stewards of their national parks.
Since 1957, Camp Greentop, in Catoctin Mountain Park, has been is known to many as simply, the Outdoor School. Multi-night trips to Camp Greentop allowed Frederick County Public School students to experience the need to preserve the environment, learn by doing, and to develop socially. For many, the week at Camp Greentop became the most vivid and positive of all school memories. The end of the overnight program in 1996 eliminated this growth opportunity for thousands of children. Many of these children are struggling from childhood obesity today due to lack of outdoor activity.
The Park Steward program will begin reversal of this trend. International Baccalaureate Biology students from North Hagerstown High School, in Washington County, MD led by Master Teacher Wendy Fraker, will engage in a service-learning experience that acquaint them with local national parks, and incorporate principles of science and technology into an everyday, real world setting. Two park partners, Catoctin Forest Alliance of Thurmont, MD and Alice Ferguson Foundation of Accokeek, MD will assist in presenting this program.
These high school students will actively participate in the removal of invasive plant species during a residential experience at Camp Greentop and develop learning modules to show others the importance of national park preservation and environmental awareness. These students will share their modules and mentor middle school students on day trips to the park.
The Catoctin Park Steward program is a collaborative effort between the National Park Service, the National Park Foundation, the Catoctin Forest Alliance, the Alice Ferguson Foundation, and Washington County Public Schools.
Catoctin Mountain Park is one of 394 units administered by the National Park Service, U.S. Department of the Interior. The park Visitor Center, located on State Route 77 three miles west of Thurmont, Maryland, is open daily from 10:00 a.m. until 4:30 p.m., and from 8:30 a.m. until 5:00 p.m. on Saturdays and Sundays. Correspondence should be addressed to: Superintendent, Catoctin Mountain Park, 6602 Foxville Road, Thurmont, MD 21788. Our website address is www.nps.gov/cato. General information can be obtained by calling the Visitor Center at (301) 663-9388.