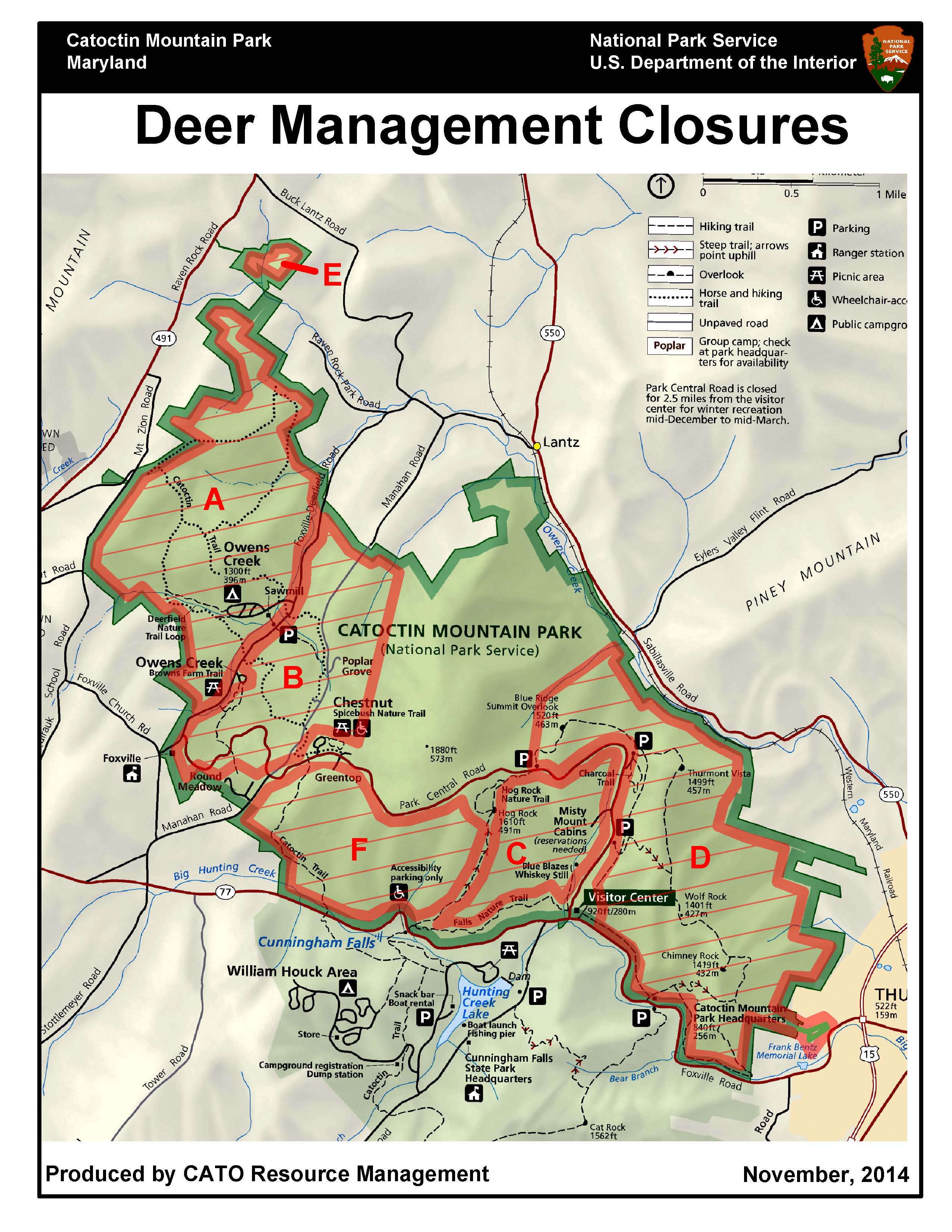 News Release Date:
November 13, 2014
Contact: Debra Mills, 301-663-9388
Catoctin Mountain Park has revised the closure schedule for deer reduction activities.Portions of Catoctin Mountain Park (CATO) will be periodically closed Monday –Thursday from 10:00 am until sunset, beginning November 17 through December 18, 2014. During this time, CATO staff will conduct white-tailed deer herd reduction activities in accordance with the Catoctin White-tailed Deer Management Plan / Final Environmental Impact Statement.These activities will also occur after sunset, when the Park is closed to visitors.
Deer herd reduction is being carried out by qualified federal employees, since public hunting is not permitted in Catoctin Mountain Park.Meat from culled deer will be donated to the Thurmont and Help Hotline Food Banks, including pantries in Frederick and Washington Counties, MD.The purpose of the herd reduction is to support forest regeneration and provide for the long-term protection, conservation and restoration of native species and cultural landscapes.The consumption of vegetation by the overpopulated deer herd has negatively impacted other wildlife species habitat, and park neighbors. Reduction activities will occur after sunset, when the Park is closed to visitors.
All closed areas will be clearly posted and closures are expected to remain in effect for short periods. Please contact the Visitor Center for specific trail closures.The closure areas are as follows:
CATOCTIN MOUNTAIN PARK

AREA CLOSURES FOR DEER REDUCTION

Nov 17-20, 2014

Closed Daily

Except 6:00 am to 10:00 am

Dec 1-4, 2014

Closed Daily

Except 6:00 am to 10:00 am

Dec. 15-18, 2014

Closed Daily

Except 6:00 am to 10:00 am

Area A

The western portion of the Park, west of Foxville-Deerfield Road to the Park boundary including the Adirondack Shelter and Horse Trail and Owens Creek Campground.

X

X

X

Area B

East of Foxville-Deerfield Road, including Poplar Grove, to the north boundary, excluding Chestnut Picnic Area. Park Central Road west of Manahan Road will remain open until 4:30 pm and reopen at 3:00 am each day until November 22, when it will close for the winter.

X

X

X

Area C

Camp Misty Mount, the area east of the Hog Rock Nature Trail, west of Park Central Road and North of Falls Nature Trail, including Blue Blazes Whiskey Still Trail.Park Central Road will remain open until 4:30 and reopen at 3:00 am each day until December 22, when it will close for the winter

X

X

X

Area D

The eastern portion of the Park, Park Central Road north and east to the Park boundary between Hog Rock parking area and the Visitor Center.

X

X

X

Area E

The northern portion of the Park just south of Buck Lantz Road

X

X

X

Area F

South of Park Central Road, including the Catoctin Trail, between Manahan Road and the Hog Rock Trail.

X

X

X
Catoctin Mountain Park is one of over 400 units administered by the National Park Service, U.S. Department of the Interior. The park Visitor Center, located on State Route 77 three miles west of Thurmont, Maryland, is open daily from 9:30 a.m. until 5:00 p.m. The Visitor Center will be closed on Federal Holidays November through February. Correspondence should be addressed to: Superintendent, Catoctin Mountain Park, 6602 Foxville Road, Thurmont, MD 21788. Our website address is www.nps.gov/cato.General information can be obtained by calling the Visitor Center at (301) 663-9388
-NPS-