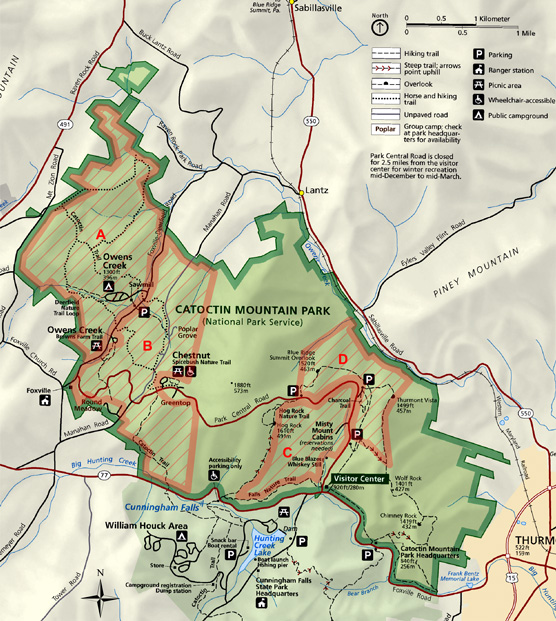 News Release Date:
February 8, 2011
Contact: Mel Poole, 301-663-9388
Portions of Catoctin Mountain Park (CATO) will be periodically closed Monday - Thursday from 1:00 pm until sunset through the end of March, 2011. During this time, CATO staff will conduct white-tailed deer herd reduction activities in accordance with the Catoctin White-tailed Deer Management Plan / Final Environmental Impact Statement.
This is a change to the schedule announced in the January 7, 2011 press release. These activities will occur after sunset, when the Park is normally closed to visitors. Park roads will not be affected by this closure. All closed areas will be clearly signed. The closure areas are as follows:
Area A: The western portion of the Park, west of Foxville-Deerfield Road to the Park boundary.
Area B: The area east of Foxville-Deerfield Road and west of Blue Ridge Summit Overlook and Hog Rock Trail, excluding Chestnut Picnic Area. 
Area C: The area east of the Hog Rock Nature Trail, to south of Park Central Road and North of Falls Nature Trail, excluding Blue Blazes Whiskey Still Trail.
Area D: Park Central Road north to the Park boundary between and including Hog Rock parking area and Thurmont Vista Trail.
Closure maps and additional information will be available at the Park Visitor Center. Areas A, B, C, and D will be closed on the following dates: February 7-10, February 15-17, February 28-March 3, and March 14-March 17, 2011.
Catoctin Mountain Park is one of 392 units administered by the National Park Service, U.S. Department of the Interior. The Park Visitor Center, located on State Route 77 three miles west of Thurmont, Maryland, is open Mondays, Tuesdays, and Thursdays from 10:00 a.m. until 4:30 p.m., Fridays from 10:00 a.m. until 5 p.m., and from 8:30 a.m. until 5:00 p.m. on Saturdays and Sundays.  
Correspondence should be addressed to: Superintendent, Catoctin Mountain Park, 6602 Foxville Road, Thurmont, MD 21788. Our website address is www.nps.gov/cato. General information can be obtained by calling the Visitor Center at (301) 663-9388.