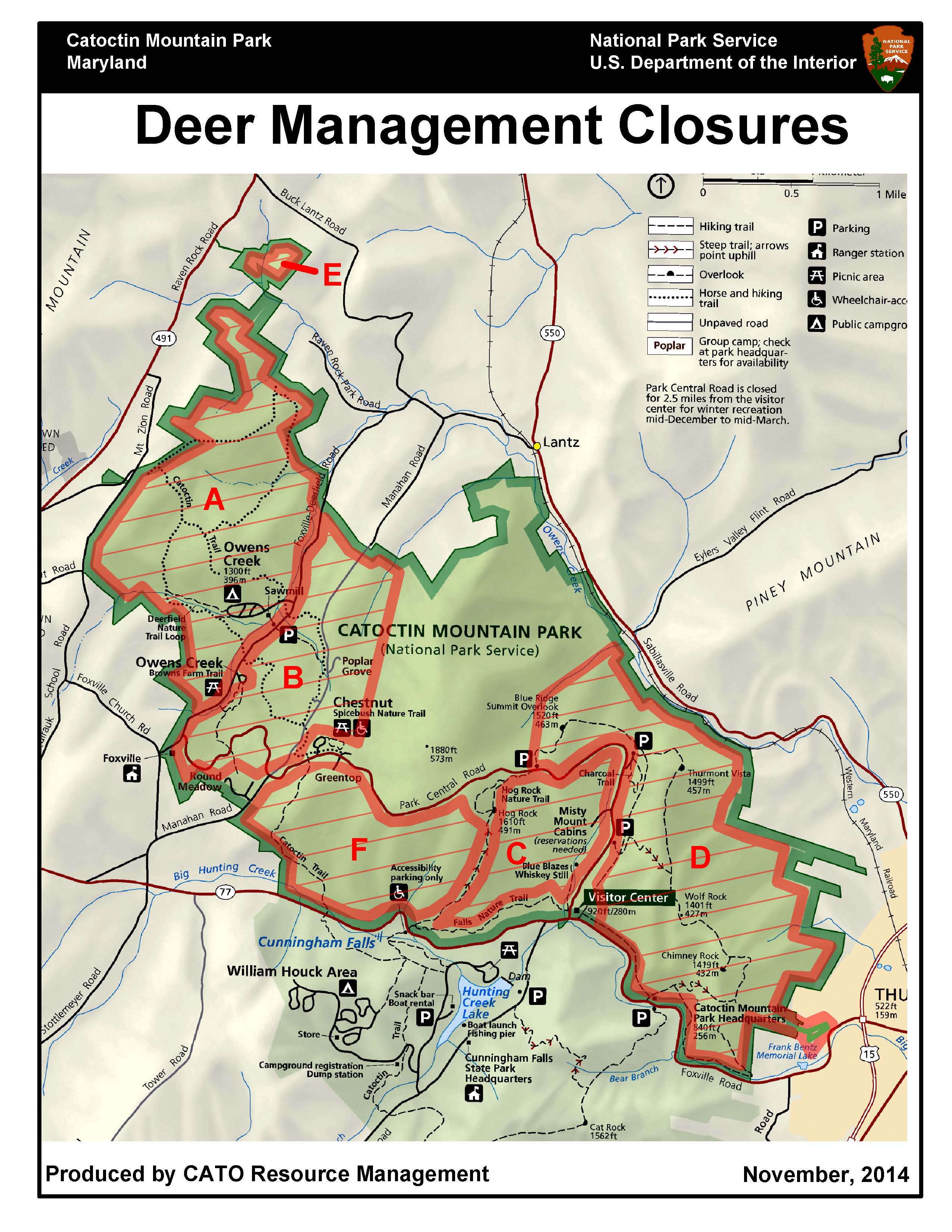 News Release Date:
February 2, 2015
Contact: Mel Poole, 301-663-6751
Catoctin Mountain Park deer management operations have been rescheduled to include February 11-12.Deer management operations that were previously scheduled for February 2-3 were cancelled due to adverse weather conditions including fog and ice.Fog reduces visibility, making deer more difficult to detect and ice limits access to much of the park.Both would have made removal efforts less efficient.The rescheduled dates were chosen based on the expectation that adverse weather will continue and will allow schedule flexibility so that Biologists can remove deer as efficiently as possible.
The purpose of the herd reduction is to support forest regeneration and provide for the long-term protection, conservation and restoration of native species and cultural landscapes.The consumption of vegetation by the overpopulated deer herd has negatively impacted other wildlife species habitat, and park neighbors.
National Park Service staff has been working this year since late November to carry out the herd reduction in a safe and humane operation.This included using highly experienced personnel familiar with the park's geography, establishing safety zones, shooting from elevated positions with a safe backdrop, conducting population reduction actions in closed areas of the Park, and utilizing non-lead ammunition. So far this season, 3,700 pounds of meat from culled deer have been donated to the Maryland and Thurmont Food Banks in Frederick County.
Catoctin Mountain Park is one of over 400 units administered by the National Park Service, U.S. Department of the Interior. Correspondence should be addressed to: Superintendent, Catoctin Mountain Park, 6602 Foxville Road, Thurmont, MD 21788. Please visit the Catoctin Mountain Park website at www.nps.gov/cato for more information.General information can be obtained by calling the Visitor Center at (3010 663-9388.The Park Visitor Center is open Sunday-Saturday from 9:30 a.m. until 5:00 p.m. daily.Emergency calls should be directed to the National Capital Region Communications Center at 1-866-677-6677.
CATOCTIN MOUNTAIN PARK

AREA CLOSURES FOR DEER REDUCTION

Feb 11-12, 2015

Closed Daily

Except 6:00 am to 1pm

Area A

The western portion of the Park, west of Foxville-Deerfield Road to the Park boundary including the Adirondack Shelters and Horse Trail and Owens Creek Campground.

X

Area B

East of Foxville-Deerfield Road, including Poplar Grove, to the north boundary, excluding Chestnut Picnic Area.Park Central Road, west of Manahan Road, is closed for the winter.

X

Area C

Camp Misty Mount, the area east of the Hog Rock Nature Trail, west of Park Central Road and North of Falls Nature Trail, including Blue Blazes Whiskey Still Trail.Park Central Road east of Hog Rock is closed for the winter.

X

Area D

Park Central Road north and east to the Park boundary, including Wolf Rock and Chimney Rock.

X

Area E

The northern portion of the Park just south of Buck Lantz Road.

X

Area F

South of Park Central Road to the southern park boundary, between Manahan Road and Hog Rock Nature Trail.

X
-NPS-