Date:
October 3, 2011
Contact:
Debra Mills, 301-663-9388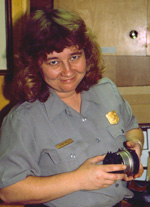 On September 21, 2011 at an awards ceremony at Indigo Landing on the George Washington Memorial Parkway, VA, Debra Mills, Park Ranger at Catoctin Mountain Park received the National Capital Region's Freeman Tilden Award for Interpretive Excellence. Named after Freeman Tilden, whose writings and teaching improved the quality of National Park Service programs and services based on visitor needs, the Freeman Tilden Award is the highest award presented to an individual National Park Service (NPS) interpreter.  
While interpretation and front-line service have always been a major component of her duties, Ranger Mills has served in a variety of capacities during her 33 years at Catoctin Mountain Park. Ms. Mills organized the park's first volunteer trail maintenance crew and started the recreational handicapped riding program at Camp Greentop while serving as the park's Horse Program Manager. She was instrumental in the founding of the Catoctin Mountain Park Employee Association and held several offices in the organization, including multiple terms as president. She is a member of the National Capital Region (NCR) Diversity Action Team, the Catoctin Volunteer Coordinator and liaison to the park's cooperating association, Eastern National.
Ranger Mills received the Tilden Award in recognition of the First Bloom program, a year-long project with Robert Moton Elementary School in Westminster, Maryland. She tailored the project, integrating the support and assistance of park partners from grant writing, to garden planting. Multiple field trips and in-school interaction with Ms. Mills and other park rangers introduced the natural world and national parks to 80 fourth graders, many of whom had previously experienced life through television and computers. Activities linked to the school science curriculum demonstrated the impact of invasive plants, human impact on water quality and the importance of balance in an ecosystem. Students were encouraged to incorporate technology while planning a native wildflower garden design. They planned a marketing strategy, won a national on-line competition and, earned a class trip to Washington, DC. The Visitor Center Wildflower Garden, planted by the children on April 26, serves as a tangible reminder of the positive impact of environmental education.
Biologists Becky Loncosky and Lindsey Donaldson, also from Catoctin, received the NCR Support to Interpretation award for their role in the First Bloom program at the same ceremony. Biologists Loncosky and Donaldson shared their expertise as Resource Managers to teach students about environmental processes, help them with tree-planting and to guide the garden research and planting process.
Catoctin Mountain Park is one of 394 units administered by the National Park Service, U.S. Department of the Interior. The park Visitor Center, located on State Route 77 three miles west of Thurmont, Maryland, is open daily from 10:00 a.m. until 4:30 p.m., and from 8:30 a.m. until 5:00 p.m. on Saturdays and Sundays. Correspondence should be addressed to: Superintendent, Catoctin Mountain Park, 6602 Foxville Road, Thurmont, MD 21788. Our website address is www.nps.gov/cato. General information can be obtained by calling the Visitor Center at (301) 663-9388.