Date:
June 8, 2011
Contact:
Debra Mills, 301-663-9388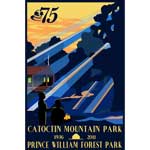 Flooding from recent storms damaged the historic bridge that provides access the gravel parking area at the Visitor Center in Catoctin Mountain Park. Vehicle access had been limited to the right lane since early May when a stone wing wall began separating from the embankment. Recently that wing wall collapsed. The Federal Highway Administration determined that continued vehicle use would damage support structures of the bridge, which may have been part of the original Hagerstown-Westminster Turnpike. The bridge is open and safe for pedestrian use and connections to the Falls Nature Trail.
The gravel parking lot will remain closed for the foreseeable future. Park staff is exploring short term options, including wood mats and steel decking, to protect the bridge, while providing safe access to the parking area on a temporary basis. Design of a permanent solution is expected to begin this fall.
Bus parking will be limited to eastbound Route 77 road shoulders near the Visitor Center and the Gymnasium Parking Lot in Camp Round Meadow until further notice. Passengers may be dropped off and picked up at the Visitor Center. Drivers are asked to contact Visitor Center Personnel for directions to the Route 77 and Camp Round Meadow parking areas.
Catoctin Mountain Park is one of 394 units administered by the National Park Service, U.S. Department of the Interior. The park Visitor Center, located on State Route 77 three miles west of Thurmont, Maryland, is open daily from 10:00 a.m. until 4:30 p.m., and from 8:30 a.m. until 5:00 p.m. on Saturdays and Sundays. Correspondence should be addressed to: Superintendent, Catoctin Mountain Park, 6602 Foxville Road, Thurmont, MD 21788. Our website address is www.nps.gov/cato. General information can be obtained by calling the Visitor Center at (301) 663-9388.