Date:
May 9, 2011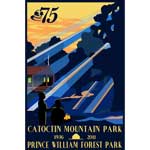 ---
Visitor Center Gravel Parking Lot Access Impacted by Storm Damage
High water from recent storms has damaged the historic bridge that provides access to overflow in the gravel parking area across from the Visitor Center on Park Central Road. The bridge is believed to be part of the original Hagerstown-Westminster Turnpike. Vehicles and pedestrians may still use the north travel lane to enter and exit the parking area until further notice.
---
Owens Creek Campground – Open for family camping through November 15
Owens Creek Campground is open on a first-come, first-served basis though November 15. Each site is limited to one camping unit (tent or trailer) and a maximum of 5 people. Maximum tent size is 9'x12'. Trailers up to 22' in length are accepted but there are no hookups. Three sites are accessible for mobility impaired campers.
---
Camp Misty Mount – Cabin rentals available through October 31
Cabins may be rented in historic Camp Misty Mount through the end of October. Rustic chestnut cabins constructed by the Works Progress Administration are available to individuals, families and groups. Please make reservations on-line at www.recreation.gov or by calling 877-444-6777.
---
Camp Round Meadow – Available for rental on a first-come, first-served basis
Camp Round Meadow is an ideal location for retreats, conferences and group events. The camp features dormitory-style housing, a conference room, dining hall and gymnasium located on the site of the Civilian Conservation Corps and the nation's first Job Corps Camps. Groups may rent all or portions of the camp by the day or week. Each dormitory sleeps a total of 30 people in separate wings providing private sleeping and sanitary facilities for two groups in each building. There are 4 dormitories providing a maximum camp occupancy of 120 people.
Camp Round Meadow is February through December. Summer openings are available on a first-come, first-served basis. Please call the Catoctin Mountain Park Headquarters at (301) 663-9330 for specific information.
---
The following interpretive programs are scheduled during June, July and August, at Catoctin Mountain Park.
---
National Trails Day Volunteer Event – Saturday, June 4, 9am – noon
Our trails are suffering from wear and tear, downed trees and other impacts from natural occurrences. If outdoor fun, and hard work sounds enticing, we invite you to enrich your personal health while improving trail conditions in Catoctin Mountain Park on National Trails Day, Saturday, June 4. The volunteer trail crew will meet Park Rangers at the Chimney Rock Trailhead adjacent to the Catoctin Mountain Park Headquarters at 9:00 a.m. The group will clear large and small debris from the trail and clean waterbars. Don't worry if this is your first experience with trail work, we'll teach you everything you need to know! Tools will be provided, but volunteers are encouraged to bring work gloves and water. Reservations are not required but RSVP's by email to CATO_volunteers@nps.gov or by calling the Visitor Center at 301-663-9388 will help with planning.
---
Children's Activity Programs – Saturday evenings May 28 through August 27 at 6:00 p.m. at the Owens Creek Amphitheater
Do you need to keep the kids busy while you are preparing dinner? Have your children join a ranger at the Owen's Creek Campground Amphitheater for an activity based children's program Saturday evenings at 6:00 p.m. from May 28 through August 27. Adult supervision is requested for children under 10 years of age.
---
Campfire Programs – Saturday evening May 28 and each Saturday evening during June and July at 9:00 p.m., Saturday evenings in August at 8:30 p.m. at the Owens Creek Amphitheater
A Ranger's Choice Campfire Program will be held at the Owens Creek Campground Amphitheater May 29 and each Saturday evening at 9:00 p.m. in June and July and at 8:30 p.m., Saturday evenings in August. Topics will focus on the National Park Service and the natural and cultural history of Catoctin Mountain Park. There will be no program on Saturday, June 12.
---
Blacksmith Shop Demonstration –Sunday, July 17 and Saturdays August 6, 13, 20 and 27 from 11:00 a.m. until 3:00 p.m., at the Blacksmith Shop in Camp Round Meadow
Before the days of mass production, every community needed a skilled blacksmith. The smithy forged nails, and hardware, sweated wagon rims, shod horses and repaired broken metals implements. The Blacksmith Shop played a vital role in the Catoctin Recreational Demonstration Area. Hardware and tools needed to build the cabin camps were manufactured on this forge, that was actively used by the National Park Service for over 40 years. Now the forge is fired to show visitors this vanishing art. Our volunteer blacksmith will demonstrate and explain how metal is heated and shaped into useful and decorative objects. The Blacksmith Shop is located in Camp Round Meadow on Manahan Road. Please call the Visitor Center at (301) 663-9388 for further information. Directions to Camp Round Meadow can be found at www.nps.gov/cato/planyourvisit/directions.htm.
Catoctin Mountain Park is one of 394 units administered by the National Park Service, U.S. Department of the Interior. The park Visitor Center, located on State Route 77 three miles west of Thurmont, Maryland, is open daily from 10:00 a.m. until 4:30 p.m., and from 8:30 a.m. until 5:00 p.m. on Saturdays and Sundays. Correspondence should be addressed to: Superintendent, Catoctin Mountain Park, 6602 Foxville Road, Thurmont, MD 21788. Our website address is www.nps.gov/cato. General information can be obtained by calling the Visitor Center at (301) 663-9388.