Animals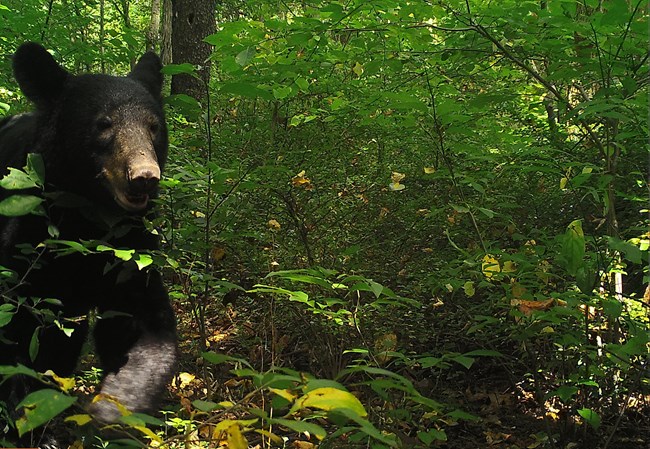 In an area of the country that is rapidly being converted to shopping centers, houses, and pavement, Catoctin Mountain Park serves as a virtual oasis for a number of animals. This 5,810 acre forested ecosystem is habitat to more than 280 species of animals.
A short walk on one of Catoctin Mountain Park's trails will take you into the forest environment. Animals you are likely to see there are squirrels, chipmunks, white-tailed deer, pileated woodpeckers and wild turkey, maybe a box turtle, and if you are extremely fortunate, a black bear.
A journey to one of Catoctin's high gradient streams may reveal fish, salamanders, frogs, crayfish, birds and insects.
Stay overnight at Owens Creek Campground, and you might hear the duck-like cackle of the wood frog, the hoot of a great horned owl, or see bats zipping overhead in search of insects.
Click here to learn more about the:
Amphibians - Check out the salamanders, frogs and toads.
Birds - See the list of bird species found in the park. Thirteen are of conservation concern.
Fish - Find native brook trout, as well as rainbow trout, brown trout, and other species.
Insects, spiders, centipedes, and millipedes - View some of the fascinating photos.
Mammals - Read about the small and large mammals that have been sighted in the park.
Reptiles- Learn about the snakes, turtles, lizards, and skinks that find homes here.


Last updated: November 3, 2017