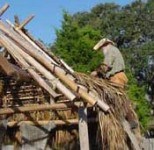 Colonial Spanish Quarter Museum
The Spanish Quarter is a living history museum recreating the life of Spanish soldiers and their families in 1740 St. Augustine. Costumed interpreters relive a time when St. Augustine was a remote outpost of the Spanish Empire. Tradesmen go about their occupations in blacksmithing, carpentry, leatherworking, candle making and other trades. Houses and gardens reveal the experiences of how families lived, how they grew and cooked their food, and how they tended their livestock in 18th century St. Augustine.
The Colonial Spanish Quarter Museum is only a short five minute walk from the entrance of the Castillo.