Accessibility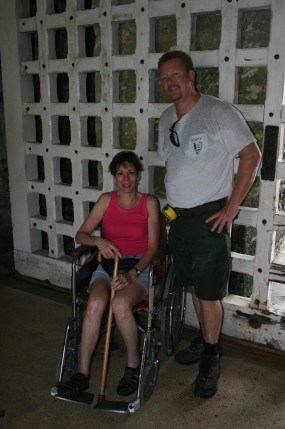 Facilities

Free parking is available in the visitor lot for properly identified vehicles.

The Park can provide a wheelchair for use while visiting the fort. Rental wheelchairs and other conveyances are available from a nearby concession.

The parking lot and the fort's lower level, which includes the museum rooms, the theater, the bookstore and the restrooms, are wheelchair accessible.

Most of the Park's pedestrian walkways are paved; however, those within the moat and covered way are sand and crushed shell stone. The Gun Deck Level can only be reached by stairs.

Interpretive Services

The Park brochure is available in English.

Braille verions of the self-guided tour are available, and there is a tactile exhibit.

Self-guide tour brochures are available in English, Spanish, German, Japanese, Russian, Dutch, Italian, Portuguese, and French.

The Park Orientation Video is in English with closed-captioning, and in Spanish.


Last updated: January 1, 2018