Directions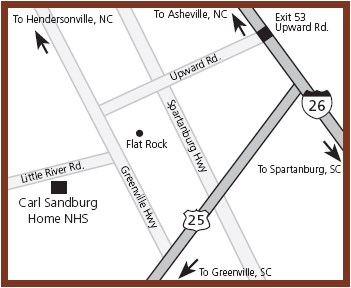 By Car
The park is located three miles south of Hendersonville, NC on Little River Road off of the Greenville Highway/Rt. 225 in Flat Rock, NC. Visitors using GPS or mapping software should use 1800 Little River Road and look for the signs directing you to the visitor parking lot on Little River Road. Find parking information here.

From Interstate 26
Take exit 53, Upward Road. From I-26 east, turn right onto Upward Road; from I-26 west, turn left onto Upward Road. At intersection with Rt. 176/Spartanburg Hwy, continue straight. Upward Road turns into Highland Lake Road. At the next light, turn left onto Rt.225/Greenville Hwy south. At next light take a right onto Little River Road. Landmarks: the US Post Office is on one corner of Little River Road and the Flat Rock Playhouse is on the other corner. Our main parking lot is approximately 1/10 mile down Little River Road, on the left. It is a large paved parking lot with a large Carl Sandburg Home NHS sign.
From Asheville, NC via I-26: 30 miles.
From Greenville, SC: Hwy 25 north to exit 5: 25 miles.
From Charlotte, NC: take I-85 south to Rt. 74 west toward Kings Mtn./Gastonia to I-26 west; 110 miles.
From Greensboro, NC: I-40 west to I-26 east; 200 miles.
From Knoxville, TN: I-40 east to I-26 east; 135 miles.
By Plane
From Asheville Regional Airport take I-26 east to exit 53 (formerly exit 22) - turn right onto Upward Road.
From Greenville/Spartanburg International Airport take I-85 north to I-26 west to exit 53 -turn left onto Upward Road.
By Bus
Greyhound Buslines is located at 337 7th Ave. East Hendersonville, NC approximately 5 miles from the park. For fare and schedule information call, 1-800-231-2222.
Apple Country Transportation is located at 526 7th Ave. East Hendersonville, NC approximately 5 miles from the park. For fares and schedules call, 1-828-698-8571.


Parking: Free parking is available at the entrance to the park. The parking lot has three oversize vehicle parking spaces for RV's and buses. Vehicles with trailers will be unable to park in these spaces and should use the playhouse lot across the street subject to availability. On busy days the lot fills quickly.
Additional Parking Options
There is a new Hikers' Parking Lot located 1/2 mile down Little River Rd from the Visitor Parking Lot for visitors who are just coming to enjoy a hike in the park.
Visitors may use the Flat Rock Playhouse lot directly across the street in the morning until noon and in the afternoon when there are no performances. There will be signs posted at the playhouse to restrict parking for performances. Please be a courteous neighbor and pay attention to their signs.
Visitors may park behind the Flat Rock Village Offices located at 110 Village Center Drive, Flat Rock, NC. It is a short walk to the park from this lot.


Last updated: May 16, 2022