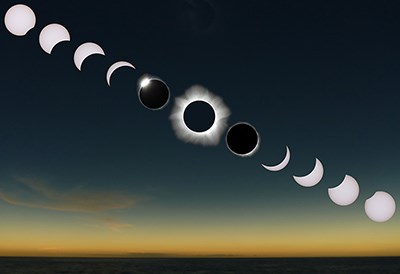 Eclipse Science for Everyone
Saturday, August 19
10:00 am to Noon
Carl Sandburg Home NHS is in the 90% path of totality for the Solar Eclipse across America on Monday, August 21. To get ready for this special event, the park is hosting a program on Saturday, August 19 from 10am to Noon.
NASA space physicist, Dr. Liz MacDonald, will start the event with a special presentation at the park's amphitheater at 10:00 am. The presentation "Eclipse Science for Everyone: Lessons from the Past and Signals from the Future" is appropriate for all ages. It will focus on changes that we can see and also those that are invisible during a solar eclipse. These phenomena relate to the study of the outer magnetic atmosphere of the Sun, and how that affects society and science through what is called space weather on Earth. The long fascinating history of observing eclipses goes back to the first astronomers, the ancient Babylonians. How these people worked out the math to predict eclipses and make astronomical observations is amazing. Eclipses touch all of us, from artists to farmers, in part because of this shared ancient history. We are all observers, and the modern citizen science movement is a new way to continue curiosity sparked by the eclipse into one's everyday life. Dr. MacDonald will talk about the relevance of the eclipse and ways that the public can participate.
Following the presentation, activity stations for all ages will be available from 11:00am to noon to learn more about the eclipse, enjoy Sandburg poetry about astrology, and how to view the eclipse safely. Viewing glasses will be handed out. The National Park Service has a special Junior Ranger Eclipse Explorer program that will also be available.
Dr. Liz MacDonald is a NASA space physicist, Renaissance woman and great granddaughter-in-law of Carl Sandburg. She counts the aurora as her research muse and aims to put a spark in space science during public talks. More about Dr. MacDonald's field and work is here: https://www.sciencefriday.com/
articles/a-physicist-explains-
the-shimmering-science-behind-
auroras/