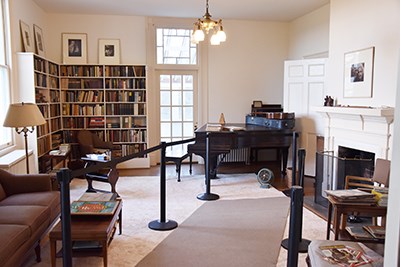 October 2018 Update
The furniture is back!!! Sandburg's library of 10,000 books and more than 30,000 items of furnishings were returned to the house in September. Most of the furnishings are back in place with all the finishing touches to be complete by the end of 2018. Tours have resumed on their normal schedule.
---
In 2015 the Sandburg furniture and book collection inside the home was packed and moved to storage to prepare the interior for several preservation treatments. Windows in deteriorated condition were repaired, the conservatory or greenhouse attached to the east side of the house was rebuilt, exterior siding was repaired and the house was painted, interior walls were painted, the wood floors cleaned and new carpet runners installed, and a dehumidification and air ventilation system was installed. There will not be a cool air conditioned system installed, but a system that will dehumidify the air and push it through the house. This will better protect the furnishings from mold and mildew and provide a cooling effect for summer visitors to the home.
The park's information center and bookstore in the ground floor of the Sandburg Home will remain open throughout the work. The upstairs will remain open for tours during the refurnishing. To best plan your visit, please contact the park for up-to-date information on work that is underway and any changes in tour schedules.
This work is being completed through project funding made available to National Parks for the repair and rehabilitation of historic features and the preservation of cultural resources. The funding will be made available in phases and is reflected in the timeline below for work to be completed.
Work completed in 2016:
All windows were removed, paint removed and rotted wood from sashes and frames was repaired. Windows were repainted and reinstalled.
The conservatory on the east side of the home was rebuilt.
The exterior of the house was repainted (this included replacing gutters and repairing deteriorated siding)
Planning and design work was completed for the installation of a ventilation and dehumidification system in 2017.

Work completed in 2017:
Repair of architectural features.
Installation of ventilation and dehumidification system.
Interior walls painted and floors refinished (as needed).
2018
Refurnishing the Sandburg Home to begin in July 2018.