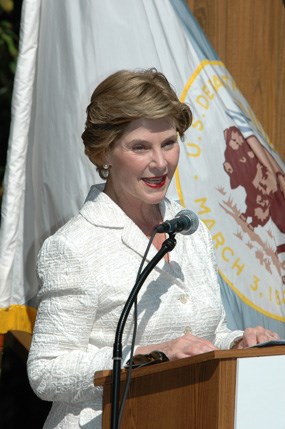 National Park Foundation Honorary Chair Mrs. Laura Bush ventured into the misty foothills of the Blue Ridge Mountains to celebrate a new grant that the National Park Foundation awarded to Carl Sandburg Home National Historic Site on Monday, July 28th. The grant focuses on enhancing the park's Junior Ranger and youth education programs. The funding is a second investment in this park's youth programs by the National Park Foundation and its charitable partner, Unilever.
This year marks the 40th anniversary of Carl Sandburg Home National Historic Site, located in picturesque Flat Rock, North Carolina, a park dedicated to Pulitzer prize-winning poet and author, Carl Sandburg. On Monday, park rangers and local students from the Boys and Girls Club of Hendersonville and "Flat Rock's Exceptional Sandburg Helpers" (FRESH) youth volunteer program had the opportunity to share with Mrs. Bush what they have been learning about Carl Sandburg's life and work through the park's Junior Ranger program. Throughout the day the children participated in a variety of activities including writing poetry, dramatic poetry interpretation and learning about Mrs. Sandburg's passion of caring for dairy goats.
The National Park Foundation grant ceremony became an animated celebration of national parks and Carl Sandburg Home NHS. Abbie Biberdorf, a 7th grade student from Apple Valley Middle School shared her award-winning poem, Sunrise America and the young apprentices from the Flat Rock Playhouse Vagabond School of Drama performed two of Sandburg's world famous Rootabaga Stories: How Henry Hagglyhoagly Played the Guitar With His Mittens On and The Potato Face Blind Man Who Lost the Diamond Rabbit on His Gold Accordion.
"We are honored to join once again with the National Park Foundation and Unilever to continue advancing the park's growing education program," shared park Superintendent Connie Backlund. "Each year hundreds of children participate in the park's Junior Ranger Program, student Poetry Contest, and curriculum-based educational visits. This generous grant will permit us to reach out to an even broader audience of youth throughout our region and the nation, as we share the legacy of one of America's great writers."