2020 Writer-in-Residence Tony Robles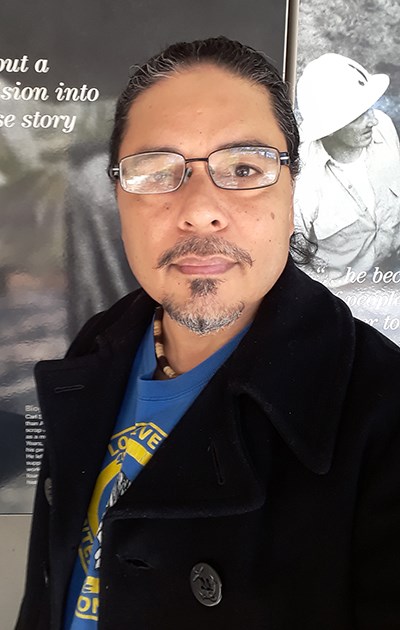 Anthony "Tony" Robles
Carl Sandburg Home National Historic Site and the Friends of Carl Sandburg at Connemara are pleased to announce the 2020 Carl Sandburg Writer-in-Residence, Tony Robles.
About Tony
Tony Robles, "The People's Poet" was born in San Francisco and is the nephew of Filipino-American poet, historian and social justice activist Al Robles. He was a shortlist nominee for poet laureate of San Francisco in 2017 and the recipient of the San Francisco Art Commission individual literary artist grant in 2018. His two books of poetry and short stories,
Cool Don't Live Here No More - A letter to San Francisco
and
Fingerprints of a Hunger Strike
(both published by Ithuriel's Spear Press) take on the issues of eviction, gentrification and police violence in communities of color. He is also the author of two children's books,
Lakas and the Manilatown Fish
and
Lakas and the Makibaka Hotel
, published by Children's Book Press and Lee and Low.
Tony w­as nominated for the Pushcart Prize in 2011 for the story, "In My Country" and also served as board president of the Manilatown Heritage Foundation, an organization started by housing activists to honor, preserve and promote Filipino American history and culture. His work is included in numerous anthologies including
Growing Up Filipino Volume II
;
Of Color: Poet's Ways of Making
;
Poverty Scholarship: Poor People Led Theory, Art, Words and Tears Across Mama Earth
, and many others. For the last ten years Robles has worked as a tenants' rights advocate for seniors and people with disabilities.
Robles moved to Hendersonville in 2019 to be closer to his mother, writer Flo Mayberry and stepfather Pete Mayberry, as well as their two dogs, Holly and GG. He has since become a volunteer with the Friends of the Library of Henderson County and Meals on Wheels. He conducted a writing workshop at the request of the North Carolina Writer's Network and organized the first ever celebration of Filipino American History Month in October 2019 at the Ashville Public Library with the Filipino-American Community of Western North Carolina (FAC-WNC).
Robles is deeply honored to be selected as Writer in Residence at the Carl Sandburg Home. He sees it as an opportunity to honor the legacy of Carl Sandburg as a people's poet and to give something back to a community that he feels has welcomed him with much warmth and graciousness. During his residency he will work on a novel in progress
Fillmore Flip,
which is based on his family's life in the Fillmore District of San Francisco.
Meet Tony
April 4, 2020 (Saturday) at 10:00 am
Writing Workshop
Join the 2020 Writer-in-Residence Tony Robles for a writer's workshop. The workshop is limited to 16 participants. Please call the park to sign-up at 828-693-4178.
April 8 (Wednesday) at 7:00 pm
Writers Network Open Mic Event
Tony will be the guest speaker for the North Carolina Writers Network on Wednesday, April 8, at the Brandy Bar in Hendersonville. He will give a reading during the main program at 7:00 pm, to be followed by an open mic forum from 8:00 – 9:00 pm. Any writer who wants to read 3-5 minutes of prose or poetry can sign up between 6:30 - 6:50 that evening.
Poetry Selection from Tony
My Father's Music
My father's music
Percolates and palpitates
Like hot coffee dreaming
A tap dancer's arrival
Hitting throat with the
Right note, going back,
Deep, unopposed
My father's music is
Caught in a kettle whose
Grease endured screarns
And flame of gas stove
Decisions where curling irons
Bent notes and contemplated
Hooks landing on the chin and
Announcing a verdict on a
Rippled canvas
My father's music is
An empty cup of my
Favorite things where soup
Is made from pain and
Love is made from rain
My father's music is
Made in wood when he
Would then wouldn't then
Would again and would
Is softer than stone and
Woodn't you know it?
My father's music is the
Chamber of cool poking
Into the greenness of the
Sun's estate of ecstatic static
My father's music
Is sky minus rain
Divided by sun
Multiplied by incense
In the smoldering
Pyramid of branches
My father's music is the
In-time pantomime of
The heaven-hell debate
Whose defense rest
On the 8th day
My father's music floats
And glides from
Head to thigh and on that other
Side where up is down and down
Is up, sticking like flap jacks
Whose wings lap lap lap the
Tick tock oil of greasy time
My father's music
Skips, bumps, burps,
Slurps, sizzles on the
Sunny side of the street
Crackle pop
Bop
Pan fried
With an
Egg on
Top
My
Father's
Music
Last updated: February 26, 2020