2013 Writer-in-Residence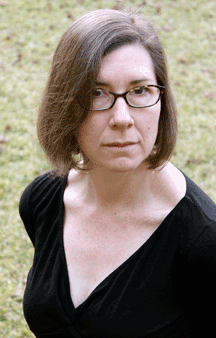 Carl Sandburg Home National Historic Site and the Friends of Carl Sandburg at Connemara are pleased to announce the 2013 Carl Sandburg Writer-in-Residence, Katherine Hester. The writer for 2013 is a prose writer.
Ms. Hester was born in Texas and raised in Athens, Georgia. Much of her life has been spent shuttling back and forth between Texas and the deep South. Her collection of stories Eggs for Young America was awarded the inaugural Bakeless Prize by author Francine Prose, selected by Barnes and Noble for its Discover New Writers promotion, and named a New York Times Notable Book. Her short fiction has also appeared in Prize Stories: The O. Henry Awards, Best American Mystery Stories, American Short Fiction, The Yale Review, Brain, Child, and elsewhere.
In her fiction, Hester writes of a New South that includes both suburbia and nostalgia for a countryside once wild; of characters surprised to find themselves on a domestic front where, beyond the edges of the maps they've been given, there might as easily be monsters as miracles; and of the lengths of interstate that uneasily link not only here and there but our past and present.
A welcoming reception in Ms. Hester's honor will be held on Friday, March 8 at the Henderson County Chamber of Commerce, at the corner of Kanuga and Church in Hendersonville, NC from 6:30 - 8:30 p.m. She will share a few selections of her writing at 7:00 p.m. Refreshments will be served and visitors will have an opportunity to visit with and learn more about her. The public is welcomed.
Ms. Hester will also appear at the Carl Sandburg Student Poetry Contest Celebration on Friday, March 22 at 7:00 p.m. at Blue Ridge Community College, Patton Building Room 150. The public is welcomed to join in the recognition of the students as they recite their winning poems.
Last updated: April 14, 2015