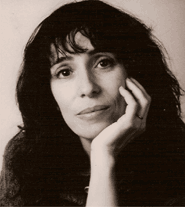 Carl Sandburg Home NHS and the Friends of Carl Sanburg at Connemara announce Alice B. Fogel as the 2012 Carl Sandburg Writer-in-Residence.
Ms. Fogel is a freelance proof reader and copy editor from New Hampshire. She teaches writing for all ages and levels, and with a passion for hiking and interests in many of the arts, she is also an award-winning designer and creator of custom clothing, particularly from "upcycled" materials. Her third book of poems, Be That Empty (Harbor Mountain Press), was a national poetry bestseller in 2008. In 2009, Strange Terrain (a guide for non-poet readers and teachers, as well as for poets) was published. A recipient of a fellowship from the National Endowment for the Arts and five-time Pushcart nominee, her poems have appeared in many journals and anthologies, including Best American Poetry, former Poet Laureate Robert Hass's Poet's Choice, TriQuarterly, Third Coast, Crazyhorse, Hotel Amerika, and the Southern Review.
Each writer is requested to attend three community events: a welcome reception, poetry contest celebration and education outreach program. Alice attended a welcoming reception in her honor, sharing a few selections of her writing and signing books. She also appeared at the Carl Sandburg Student Poetry Contest Celebration. The third event is at the writer's choice and Ms. Fogel chose to work with a local high school. She presented a workshop to over 200 students at Hendersonville High School the first week of her residence.