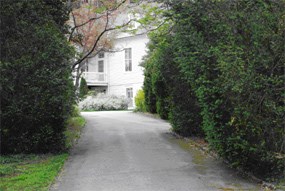 The landscape as it was during the Sandburg era is referred to as the Cultural Landscape. The park uses a Cultural Landscape Report to help guide decisions on landscaping issues. The Cultural Landscape Report was created through indepth research into the history of the property and each of its successive owners, old photographs, and personal interviews with Sandburg family members. The primary objective in park landscape management is to keep the gardens and grounds looking, as much as possible, as they did when the Sandburgs lived here. Flower beds are planted with the same species and cultivars as were used by the Sandburgs; trees and shrubs that require replacement are replaced "in-kind" (i.e. with the same species).
Many of the trees and shrubs on the grounds around the House were planted long before the arrival of the Sandburgs. The original owner, C. G. Memminger (who owned the home from 1838-1888), developed the property and grounds. From American elms to formal boxwood gardens, many of the same specimens grace the landscape today. Maintaining these 150 year-old trees requires special cultural techniques that are part of the field known as "historic landscape preservation".
Learn more about how the park managed overgrown 150 year old boxwoods here.