Stories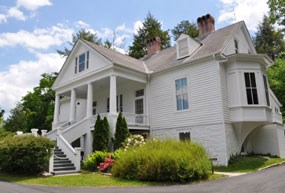 The property known today as Connemara not only offers inspiration and enjoyment, but has a long and complicated history. The property was developed and the house built in 1838 by a slave owner who served in the Confederate government, and had leading role in South Carolina's resconstruction policies. The next two owners were prominent businessmen, who also played a role in maintaining racial segregation after reconstruction. Then in 1945, over a century later, a Pulitzer Prize-winning poet and biographer of Abraham Lincoln purchased the property. While living here, Carl Sandburg received a lifetime membership from the NAACP (National Association for the Advancement of Colored People) for his work in civil rights. He was also awarded a Pulitizer Prize for his Complete Poems, which includes many works on social justice and labor rights.

You can learn more about the history of the site and prominent figures through the links below:

Historic Resource Study of African American History at the Site
This Historic Resource Study, Black Lives and Whitened Stories: From the Lowcountry to the Mountains, by David and Anne Whisnant, explores the history of African Americans and the larger racial dynamics at Carl Sandburg Home National Historic Site over a period of more than a century, beginning in the 1830s.
Smyth Family at Connemara
Ellison Adger Smyth was a native of Charleston born in 1847. When he purchased Rock Hill at age 52, in 1900, he was not only a Confederate veteran, but a leading industrialist. Starting out with a simple cotton mill, he went on to become a textile giant involved with publishing and banking. At one point, he ran thirty six corporations, and a dozen banks.
In his role as an industrialist, Smyth's politics were typical of his status. He was opposed to both unions and child labor laws, believing that young teenagers (12-16) were the most productive workers in his mills. This is in stark contrast to the ideals and beliefs being written in Chicago by the young future owner of Connemara, Carl Sandburg.
The property saw major changes during the Smyth Era. The name was changed to "Connemara" in honor of the family's Irish ancestry. Most importantly, it was during this time that the home was used as a consistent full time residence and not just a summer home. The barn area expanded to house lambs, sheep, dogs, oxen, fowl and champion milking cattle. He added a side pasture, walking trails and vast vegetable and flower gardens. Captain Smyth died at Connemara in 1942 at age 94.


Last updated: October 22, 2021