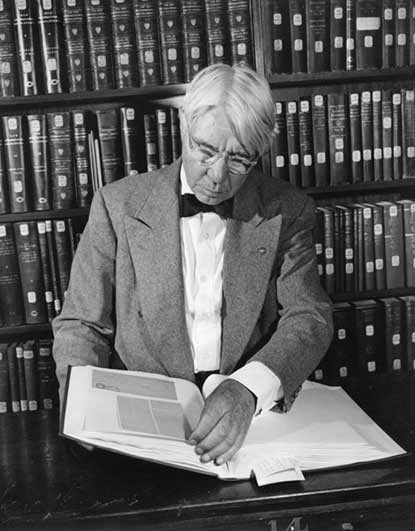 "Poet of the People" - Carl Sandburg
Carl Sandburg found his subject in the American people and the American landscape; he found his voice after a long, lonely search and struggle, in the vivid, candid economy of the American vernacular. He worked his way to a rugged, individual free verse style which spoke clearly, directly, and often crudely to the audience which was also his subject. His poetry celebrated and consoled people in their environments-the crush of the city, the enduring solace of the prairie.
In his work for the Day Book, the Chicago Daily News, and the Newspaper Enterprise Association (NEA), Sandburg had become a skilled investigative reporter with passionate social concerns. He covered war, racial strife, lynchings, mob violence, and the inequities of the industrial society, such as child labor, and disease and injury induced in the workplace. These concerns were transmuted into poetry. His first published book of poetry, Chicago Poems, offered bold, realistic portraits of working men, women, and children; of the "inexplicable fate" of the vulnerable and struggling human victims of war, progress, business. Through his poetry, Sandburg was becoming the poet of democracy, and his belief that the poet had a public duty to speak of his times established his legacy as the "Poet of the People."
Click here to read
selections of Sandburg's Poetry.
Born on January 6, 1878, Carl August Sandburg was the second child and first son of the hard working Sandburgs in Galesburg ,
Illinois
. His extraordinary story traces the life of a young man leaving school at the age of thirteen and later establishing himself as a writer, poet, and musician. Visit his
timeline
and the
Virtual Museum Exhibit
to learn more about Sandburg's life.
Sandburg found his subject and his themes in ordinary life. After meeting his wife Lilian in 1907, the two would start a relationship that forever changed their lives. The Sandburg family looked to each other as a place for support and inspiration. Use the links above to learn more about the Sandburg family.
About Carl Sandburg
Born: January 6, 1878 in Galesburg, IL
Died: July 22, 1967 in Flat Rock, NC
Buried: His ashes were placed under a large stone referred to as "Remembrance Rock" at the Carl Sandburg State Historic Site in Galesburg, IL. The ashes of his wife Lilian and daughters Margaret and Janet were also placed there.
Eye color: Hazel (changing from gray to blue/green)