Lilian "Paula" Sandburg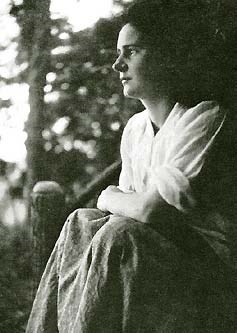 The Great Hunt
I never knew any more beautiful than you:
I have hunted you under my thoughts,
I have broken down under the wind
And into the roses looking for you.
I shall never find any greater than you.
Carl Sandburg, Chicago Poems, 1916
Carl Sandburg wrote these words about his wife, Lilian Steichen Sandburg, whom he met in 1907.
Lilian was born in Hancock, Michigan on May 1, 1883. She was the daughter of John Pierre and Mary Kemp Steichen of Luxembourg, and sister to Edward Steichen.
The first-generation American graduated Phi-Beta Kappa from the University of Chicago in 1903. Lilian then taught high school in North Dakota and Illinois for the next four years. Lilian's own mother had set an example of a strong woman for her children. After the Steichen family immigrated to the U.S. Lillian's father passed away. Mary opened a millinery shop to support herself and her children. Such determination in Mary transferred to her children. Lillian was politically active before women were allowed to exercise their right to vote. An argument often made in the women's suffrage movement was that women were political already, regardless of their ability to vote. Lilian Steichen is an excellent example of this point.
Like Carl, she was a member of the Wisconsin Social-Democratic Party. She worked for the party translating German literature into English. She often attended meetings at party headquarters in Milwaukee. There, in December 1907, she met a fellow activist named Charles Sandburg. Charles, almost 30, and Lilian, age 24, were introduced by a member of her family. He showed interest in her immediately, she was not so quickly taken in. But she gave him her address and allowed him to walk her to the streetcar to say goodbye.
They would exchange letters over the course of the next few months until they met again in March 1908. They wrote to each other, sharing their thoughts on socialism, philosophy, democratic art, and sharing their poetry. Much like the success writing brought Sandburg in other parts of life, he won Lilian's affection first in his letters. As Lilian's love for Carl grew in their exchanges, so did her faith in his work. Their letters became romantic, and they planned a visit to her parents' farm in Wisconsin. Their next meeting took place during her spring vacation. Over the course of this week, Lilian and Carl decided to get married to following June. The June wedding took place at a friend's house without rings and without vows of "obedience." The forward-minded couple even stated that should either ever wish for a divorce, the other would not fight it and grant the divorce. When they married in 1908, she encouraged him to start using his given name, Carl, and he began calling her Paula. Sandburg's name for his wife, Paula, appears in his poetry many times.
In their married life, Carl and Paula shared great respect for each other as well as their ideals. First, the Sandburg couple maintained that the simple things in life were often the most important. Second, they believed that work was valuable for personal fulfillment and in order to leave your mark on the world. These values undoubtedly supported the couple in the early years of marriage. The years before Carl's great success as a writer saw him change jobs, lose jobs, and struggle to find time for his writing. Often, he resorted to writing at night after work, while Paula typed out the words to send out.
Paula and Carl faced challenges and tragedies in their family as well. Their eldest daughter Margaret, born in 1911, suffered from epilepsy. At a time when treatments ranged from ineffective to, experimental, to brutal, the small family persevered. Their second child, a girl, died a birth. Their daughter Janet, born in 1916, was struck by a car at age 16. Janet was comatose for days and suffered brain damage and never became capable of independence as an adult. The Sandburg's fourth daughter, Helga, was born in 1918. Despite challenges and tragedies, the family was close and active together.
Paula had a penchant for gardening and raising animals. During the family's life in Michigan, Paula kept a number of animals on their five acres. She had horses, for the girls to ride, chicken and rabbits for meat, and goats for milk. The dairy goats would become a primary hobby for Paula throughout her life. She purchased her first goat in 1935 and began to research the benefits of goat's milk.
The goats became more than a source of milk and cheese when Paula began breeding them for sale and for show. Soon, "Paula Sandburg" would be a household name in the world of dairy goats. The 1945 move to Connemara was partially motivated by the need for more open pastures for the goats.
At Connemara Paula and Helga worked to improve the dairy production of the herd. The herd itself grew to 200 at the highest, with kids sold around the country and internationally. After Helga moved out of the family home, Paula shrank the herd and focused on developing a line of excellence in the Toggenburg goats. Paula's doe Puritan Jon's Jennifer II became the all-breed American champion for milk production and world champion for Toggenburgs. The doe, 170 pounds, produced 5,750 pounds of milk in 305 days.
Connemara was Carl's last home and after his passing in 1967, Paula helped with the planned transition of the family home to the National Park Service. Paula would live on for another decade in Ashville, North Carolina with her daughters Margaret and Janet. Lilian Paula Sandburg would pass away in her home at age 93 in 1977. She left behind her own legacy as well as Carl's in their home at Connemara. Carl and Lilian's descendants still live on and actively participate in the preservation of the memory of their lives.
For more information on Lilian "Paula" Sandburg, please visit our Virtual Museum Exhibit.
Last updated: June 8, 2023