Lilian "Paula" Sandburg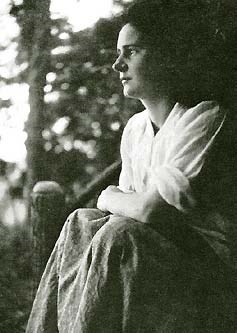 The Great Hunt

I never knew any more beautiful than you:
I have hunted you under my thoughts,
I have broken down under the wind
And into the roses looking for you.
I shall never find any greater than you.
Carl Sandburg, Chicago Poems, 1916


Carl Sandburg wrote these words about his wife, Lilian Steichen Sandburg, whom he met in 1907.
Daughter of John Pierre and Mary Kemp Steichen of Luxembourg, Lilian was born in Hancock, Michigan on May 1, 1883. She was a first-generation American and sister to Edward Steichen. After graduating Phi-Beta Kappa from the University of Chicago in 1903, she taught high school in North Dakota and Illinois for the next four years.

Like Carl, she was a member of the Wisconsin Social-Democratic party, translating German literature into English. She often attended meetings at party headquarters in Milwaukee where on December 1907, she met a fellow activist named Charles Sandburg. They began to write letters to each other, sharing their thoughts on socialism, philosophy, democratic art, and sharing their poetry. Their letters became romantic and they planned a visit at her parents' farm in Wisconsin. Charles and Lilian decided to marry. When they married in 1908 she encouraged him to start using his given name, Carl, and he began calling her Paula.
Years later, at the suggestion of Carl, Lilian began raising dairy goats at their home in Michigan. She purchased her first goat in 1935 and began to research the benefits of goats milk. Soon, "Paula Sandburg" would be a household name in the world of dairy goats.
For more information on Lilian "Paula" Sandburg, please visit our Virtual Museum Exhibit.
Last updated: April 14, 2015