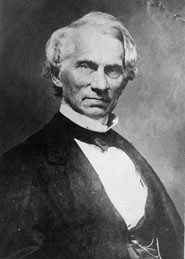 Memminger Era
In the mid eighteen-twenties, Flat Rock became a popular summer destination because it offered release from the oppressive heat and the perfect climate to recover from illnesses. Many of its summer inhabitants were travelers from Charleston, South Carolina. In fact, the "Charlestonian" influence was so large that the area was referred to as "The Little Charleston of the Mountains." Of the wealthy travelers from Charleston was Christopher Gustav Memminger, builder of what is today Connemara.
Memminger worked as a lawyer in Charleston, SC and gained prominence as the Secretary of Confederate Treasury during the Civil War. He established the property in 1836 to use as a vacation home with his family escape the heat and insects that inhabited the South Carolina lowland during the summer time. He called the estate "Rock Hill" due to the exposed rock faces throughout the property. By the outbreak of the Civil War, Rock Hill included the Main House, Kitchen, and two surrounding slave quarters. The 1850 census taken in Charleston indicates that Memminger had twelve slaves. The two slave residences closest to the main house likely housed cooks, maids, and butlers for the family. The 1860 Henderson County census listed six male slaves in Memminger's possession. Memminger resigned from his post in 1864 and retreated to Rock Hill. Shielded from battle by the mountains, Flat Rock, however, did not escape the brutality of war. Memminger, his family, and his friends used the place as a hideout due to the large presence of "Bushwhackers" and the lack of civil or military law in the area. Mansions in the area were raided, but there is no recorded account of Bushwhackers entering Rock Hill.
The Civil War ended and Memminger returned to Charleston to continue his law practice. After Memminger's death, Rock Hill was sold to Colonel William Gregg, a native of South Carolina and former Confederate soldier. Though he owned Rock Hill for ten years, he never occupied it.